Moderator: chowadmin
Missing from local park, 2 tennis balls, 1 golf ball, and 1 toy rhino (horn missing). Has anyone seen these items???

SweetPea Rocks!!
---
How much did you say Butters weighs???? At that size, We see nothing..those must have come from someone else and they are trying to blame Butters..
Too Cute..

---
Maybe next time, Butters can bring back a pearl necklace for mama?
Anyway, nice job Butters! (come on, we all know it's you, right?!)
Elodie
please help feed animals in shelters for free, click daily on the yellow button
http://clicanimaux.com/
---
Yes, if only I could sharpen his clepto skills to bring valuables home ????
Chowpups, I know, I told some people they could have their tennis ball back if they could take it from him

They declined!

SweetPea Rocks!!
---

I'll bet no one wants to mess with the mighty Butters to get their toys back!!
CoraP.
Remember this, and also be persuaded of its truth - the future is not in the hands of fate, but in ourselves.
Jules Jusserand
---
---
Rank 3

Posts: 4304
Joined: Sat Feb 03, 2007 10:20 pm
Location: New Orleans,La.
Hey Butters, Finders Keepers if you ask us

We think you are awsome and hey if you see a toy you want and nobodies lookin'....go for it!!!
HUGS, from Kearra & Kyra

Thanks Sweetpea!
---
Except he brings them home and never ever plays with them. He gets annoyed if I try to get him to play with them


SweetPea Rocks!!
---
Rank 1

Posts: 273
Joined: Wed Apr 09, 2008 12:24 pm
Location: Newfoundland Canada
what a handsome clepto! who needs tennis balls anyway right butters? He has very nice teeth!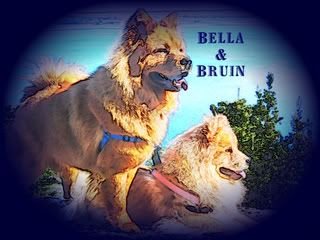 Tyler, Jenna, Bella & Bruin.
---
He looks like he's saying...."Try me....just try and take these away" LOL

Thanks so much sweetpea!!!
---
Rank 4

Posts: 6320
Joined: Wed Mar 02, 2005 9:49 am
Location: Cheshire, On The Island.(But always wishing she was back home in Wales)
Well done Butters - what have you got your eye on for next time!!

(Thank you Sweetpea for my new banner.)
---