Moderator: chowadmin
BOSKO WAS OUR HEALING FROM LOSING KOKOA TO ESOPHOGUS CANCER , IN A MOMENT HE GASPED FOR AIR AND LOOKED TO ME , HIS DAD WHO IS ALWAYS THERE FOR HIM , FOR HELP . IT WAS TO LATE , HIS STOMACH HAD TWISTED INSIDE HIM , SOMETHING CALLED BLOAT , HAD TAKEN MY BOY FROM US. NO MATTER HOW HARD I CRIED AND BEGGED FOR IT NOT TO BE TRUE , MORNING CAME ONLY TO REALIZE THAT THE LIFELESS BODY I HELD ALL NIGHT WAS NOT COMING BACK. WORDS CANT EVEN COME CLOSE TO THE PAIN AND LOSS THAT HAS OCCURED , NOT A MINUTE OF A DAY GOES BY WITHOUT MISSING OUR BOO , I DONT THINK WE WILL EVER BE THE SAME.
---
I'm so sorry for your loss. I know exactly how you feel. You provided much love and comfort to Bosko.

---
Rank 3

Posts: 2091
Joined: Sun Oct 28, 2007 2:36 pm
I am so sorry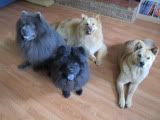 ---
---
---
Rank 3

Posts: 1580
Joined: Mon Sep 24, 2007 12:26 am
Location: Rockford, IL
My thoughts and prayers are with you and yours.
Jerilyn

Banner courtesy of the amazing Sweetpea.
Until there are none, adopt one!
http://www.dogster.com/dogs/631376
http://www.dogster.com/dogs/650868
---
---
---
Rank 1

Posts: 133
Joined: Thu Dec 27, 2007 6:01 pm
Location: Buffalo, NY
I am so sorry for your loss. Remember you will meet again some day. It's been almost a year since I lost Star to Bloat and a brain tumor but I also have her with me to I still miss her. Always remember all the good times.

---
I am so sorry, I can totally understand what you are going through, its like a nighmare and you will wake up and they will be there and they are not

---