Moderator: chowadmin
Rank 3

Posts: 1062
Joined: Sat Nov 12, 2005 5:46 pm
Fozzie is gone.........That was the hardest thing I have ever had to do. We came home Saturday evening and he had lost all use of his hind quarters. His right leg was dangling and his left wasn't doing much better. We took him to the emergency vet and they thought he may have had a stroke. We took him home but he had a horrible night last night. All three of us stayed out in the living room with him taking care of him. He would sleep and wake up flailing around like he was trying to go somewhere. He was in a lot of pain and crying in a much higher pitch sound than he ever made before. He drank a ton of water but was still refusing to eat anything. Not even the chicken broth. We called the vet this morning and they said to bring him right in. He was so tired from struggling all night. So tired. The poor guy went so fast. They had said it could take up to 2 minutes and I don't think it even took 2 seconds. He was ready to go. My heart is broken. I didn't want to have to do that. I know it needed to be done and I had to be strong for him but I wish I could undo it now. We came home and lit a candle and put it with his paw print and collar. Run free Fozzie. You are free from all your pain now.
---
I'm so sorry Linda

all of you were so good to Fozzie.
He isn't in pain anymore - run free, Fozzie!

Karen, Kohana, Takoda, and our Chow Angels Nahkohe and Shiloh
---
Fozzie had a wonderful caring family watching out for him, and Iam sure he will watch out for all of you now..
RIP Fozzie..

---
Oh Linda...my heart goes out to you, your family and fur family. Fozzie was loved and loved in return and is now pain free. It is not easy to make the right decision. May loving peace enter your heart this season and always.
Jennifer & Sheena
---
Sending hugs your way.
---
I'm so sorry for your loss Linda.

---
Moderator

Posts: 7575
Joined: Tue Oct 25, 2005 3:49 am
Location: Muskegon, Michigan
Contact:
Poor Fozz. I'm sorry things went the hard way. You did right by him to the end. He is keeping good company now at the bridge, and is in pain no more.
http://vimeo.com/12895512
---
Rank 3

Posts: 2044
Joined: Sat Dec 24, 2005 12:34 pm
Location: cleveland ohio
Linda...I am so sorry to hear about Fozzie.
My heart goes out to you and you are in my thoughts.
Run Free Fozzie!
JR AND CHEYENNE
another special from SWEETPEA PRODUCTIONS
---
You have my deepest sympathies... But he IS running free now. You did the right thing. You know that, I just hope that knowledge makes it somewhat easier to bear...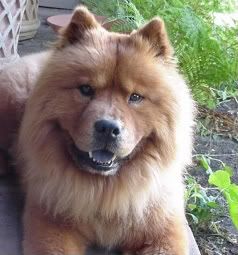 ---
Oh, Linda, I'm so sorry for your loss. Sending you all very warm hugs....

Leonora's mum & dad
---
I feel your pain as I also had our 3 year old Gandalf down this December as well.

He too lost use of his rear legs, no pain, just unable to move them. One vet thinks it was disk related, but not sure. He was a healthy Chow, negitive on Lymes and no problems. He was a Redcloud Chow and could not be more handsome.

Did the same thing, go to emergency vet who wanted upwards of $6500 between MDI, surgery etc and if we had the funds, I'd not blink an eye to have him cared for. But in the end, I had to do the unthinkable for such a young Chow.

I'm terribly sorry for your loss as this is the most difficult thing to do and except. But remember that you removed his pain and he's now running free. Free to be with other friends. Waiting for you when the time comes when we all cross over the bridge and see our wonderful "boys and girls" we lost while here now found once again running into our arms.

Please remember all the wonderfull times Fozzie and you had together. It's a tough time to go through I know.

You're not alone, you have friends here that will understand.

JIm and Ellie
---
---
Return to "Memorials and Prayers"
Who is online
Users browsing this forum: No registered users and 3 guests