Moderator: chowadmin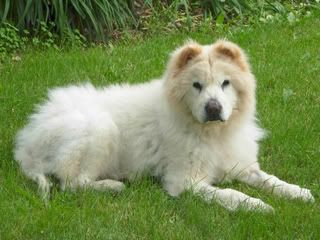 We knew her as Lakota, but her forever name became Brandibear. In a way she belonged to all of us, she touched so many lives and so many were invested in her welfare. So many people on this forum helped, offered their help, or gave their daily thoughts and prayers on her behalf.
This is her adoption story:
viewtopic.php?f=21&t=7952
When Linda and Gary came forward to bring her into their family we were all thrilled, they were such excellent chow parents. Sadly, Brandibear was diagnosed with lymphoma shortly after being adopted. They could have consented to let us take BB back, but they did not. Wonderful people that they are, Linda and Gary took her into their hearts and did everything they could possibly do to heal this little girl, body and soul. With their combined courage, BB had nine months of such love and caring as she had never known. I feel in my heart that she lived a lifetime in those months, and had a lifetime of love to carry over the Rainbow Bridge.
I felt at the time of the diagnosis that this was an adoption gone terribly wrong, but Linda has helped me see otherwise. Here are the special words she wrote to BB:
A Chow's life
My tail of devotion to my little BKin.

September 23rd 2008 3:15 pm
I remember the first time I saw you..in a pic online. A fellow Dogster told us about you. You lived outside all your life in a 6x6 pen with an igloo. You were all matted but I could see that you had a pretty coat..and your eyes. I don't know what it was about them but I wanted you to be a part of my life. I chatted with your foster mom & we decided you would fit in just fine here. I remember the day we picked you up, it was so very cold. You were curled up fast asleep in a beddie in the back seat. I took you for a walkie and in typical girlie Chow fashion, you completely ignored me. You seemed tired but still game for anything. So off we went. On the ride home you sat in my lap. You were bald, they had to shave you because the mats wouldn't brush out. At home you met Kubbi and could care less about him. Awwww, poor kubbi wanted a friend. You went straight to your beddie and fell asleep. Well a week passed and you really just seemed tired and your glands seemed swollen. so off to see Dr. staci. Well she thought lymphoma and we waited for tests. The dreaded call came & it was confirmed. I couldn't believe this little girl I was quickly getting so attached to wasn't going to be here for very long.
I would take you to work- you followed me everywhere. so it was chemo, and you did well. I started to get to know your quirks, your personality. You never wagged your tail..till one cold winter day, bitter cold and brutally windy. We went for our am walkie. I realised you had stopped and I looked down to see you smiling and wagging you little bald tail. I was so happy, kneeling in the snow crying happy tears and hugging you. Your appetite picked up, your fur grew back, you chased the kitties, bunnies and anything else that ran away. You run like a puupy front feet, back feet, probably because you never really ran before. You sleep in your beddie in the strangest positions, with your head hanging out in a ghastly manner. We have learned this is just you and have stopped worrying. Our good friend Rocky and mom have sent you & Kubbi little stuffed puppy pillows. You kept yours at the end of you bed by your back pawsies. Then one day I came home to see you had moved your puppy and was usuing him as a pillow, you are so very cute.
I wonder sometimes why you have been sent to me. I hope I have given you a good life . I hope you know how much I love you, I do tell you often.
I research every day, in hopes to find something to help you, to keep you here with me just a bit longer. something that all those brilliant scientists and doctors have missed.
Because you have a strength BB, a will to live, you're a fighter. and I admire and respect that about you. You are doing very well right now BB, Dr. Staci says that you will feel bad soon after this round of chemo is done. But now, right now, we still have Hope and Hope is something that Elvis taught us about. It gives us strength, keeps us going.
When I first brought you in to see the vet one of the girls there told me she thought I was crazy to have adopted you, you were so scruffy and skinny and forelorn looking. But now, she calles you beautiful, and you are. Your cute little Chow mane with the hint of caramel in it, your chubby little pawsies, your little tail that still has bald sopts, your bright eyes. I will always love you BB. I will always remember the way your fur smells, the way your tail wags furiously when the scent of bunny is caught, the way you hug back now when I hug you.
I am so glad you are part of my life. Mom.
http://www.dogster.com/dogs/703058#diary
BB lost her battle to this awful disease on Sunday. Run free, sweet girl.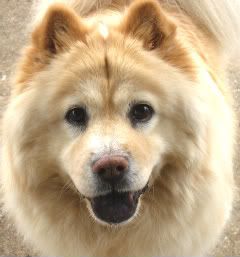 Sandy
Owned by Sophie
---
Rank 3

Posts: 2091
Joined: Sun Oct 28, 2007 2:36 pm
Such sad news

I think you're right about her living a lifetime in 9 months, though. She had a wonderful home and a family who loved her.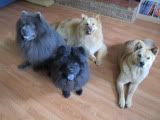 ---
How very, very sad - thank goodness she had so much love at least at the end.
Mia
---
I am so sorry to hear this. I followed her story and was so happy to know she had found a wonderful home. I have wondered how she was. Our Bear died from lymphoma, so I knew how quickly it can take our beloved friends. Godspeed, beautiful Brandi.
CoraP.
Remember this, and also be persuaded of its truth - the future is not in the hands of fate, but in ourselves.
Jules Jusserand
---
It is so very sad. I am so thankful that she had a real home and family to spend her final days but it is just heart breaking that those days were way too short. I had so hoped she would have many years of family to help make up for all those spent alone in a kennel. Please share our condolences with her mom and Sandy hugs to you because I know you're heart broken as well.
Chloe (left) Shuggy (right)
---
this is very sad news

I too had followed Brandibears story and was wondering how she was doing.
Sandy,you were one of her angels.I am so sorry to hear of her passing but happy she finally found a loving home.
the letter her Mom wrote was beautiful.
Kito Feb 4, 2006 - July 1,2007
Kai Mar.15 2007 - Aug. 26,2010
And when my time comes I will not go alone for my Chows will be there to say "Welcome Home".
---
Rank 0

Posts: 91
Joined: Thu Dec 20, 2007 3:17 pm
This makes me so sad to hear this, but I am so happy at the same time that she found her wonderful adoptive family.
---
how heartbreaking, I am glad she had a home when the end came
---
i could not read this ..i woud not ,,, i did not .......,. i feared..........what i might read ......me and the chow will walk to the river , or to tre batteries .. and look to the dawn ,, look to the sky.. on this ridge above indian creek .. and call on the great chow spirit for solace ,,


for peace

....

tears fall..

m
---
---
Return to "Memorials and Prayers"
Who is online
Users browsing this forum: Google [Bot] and 4 guests