Moderator: chowadmin
Happy Birthday to my boy Brandon tomorrow!

Happy Birthday, Sweet Boy! Your Momma will come home with pigs ears for you tomorrow - among other gifts!
---
---
Rank 3

Posts: 4327
Joined: Tue Mar 21, 2006 7:47 am
Location: Maryland
Happy, happy birthday Brandon!!!

Hope you're having a great birthday!

This photo arrangement is the wonderful work of Sweetpea
---
Hi, Brandon here!
Thanks for the birhtday wishes, and thanks for flying the American flag for me!
My Mommy brought me a yellow stuffed goat with big black horns, some pigs ears, some chicken snacks my vet sells that I absolutely love, some cheese sticks, a mini size bag of cheetos, a little cup of ice cream, and a Happy Birthday balloon. I only got to eat a very little bit of that food yesterday - Mom said I had to spread it out over a few days.

I helped myself to my stuffed goat as soon as Mom sat it down in the house. She went back out to lock the car and when she came back I had already taken it out of the bag and had it in the living room. Mom thought I should have waited for her to give it to me, but I knew it was mine so I figure I just saved her a few steps!
I knew it was mine because there's no one else besides me that Mom loves enough to get a cool goat like that for!


---
Rank 3

Posts: 2091
Joined: Sun Oct 28, 2007 2:36 pm
Happy Birthday!!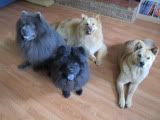 ---
Rank 4

Posts: 6320
Joined: Wed Mar 02, 2005 9:49 am
Location: Cheshire, On The Island.(But always wishing she was back home in Wales)
Oh! Oh! You are a very lucky boy Brandon and you are very helpful.
We help our Mummy unpack the shopping too. Sometimes she does not want us to but we do like to see what she has bought.
We are glad you had a wonderful birthday.

Love from Milly and Mabel.

xxxxxxxxxxxxxxxxxxxxxxxxxx
(Thank you Sweetpea for my new banner.)
---
Moderator

Posts: 7575
Joined: Tue Oct 25, 2005 3:49 am
Location: Muskegon, Michigan
Contact:
Happy Birthday, Brandon! How old are you? We hope you got to chase a squirrel or a cat on your special day!

Lily & Pip
http://vimeo.com/12895512
---
Thanks everybody.

Brandon is ten, but I don't like to think about him being that age already.

We don't really know when his birthday is for sure. He was abandoned at the vet as a puppy and they were pretty sure he was probably born in November based on his age when they got him, so I just picked the 15th since it's the middle of the month. I guess he could have been a Halloween or a Thanksgiving baby, we don't know.

He came to live with us the following February when he was somewhere between 2 and 3 months old.
---
Rank 3

Posts: 4304
Joined: Sat Feb 03, 2007 10:20 pm
Location: New Orleans,La.
Happy Birthday Brandon


Your Mommy sure must LOVE you to get you all those yummy treats and a goat



Thanks Sweetpea!
---
---
Return to "Special Events, Birthdays & Anniversaries"
Who is online
Users browsing this forum: No registered users and 3 guests