Moderator: chowadmin
Rank 3

Posts: 4327
Joined: Tue Mar 21, 2006 7:47 am
Location: Maryland
Oh dear sweet Gracie, I am so sorry that I am sending you such belated birthday wishes.

Happy, happy birthday to you!! Did you get lost of treats! Hope Princess was extra nice to you.

and purple kisses,
Special Dark

This photo arrangement is the wonderful work of Sweetpea
---
Rank 3

Posts: 2044
Joined: Sat Dec 24, 2005 12:34 pm
Location: cleveland ohio
HAPPY BIRTHDAY GRACIE
slurps from MR.JR and Princess Cheyenne
JR AND CHEYENNE
another special from SWEETPEA PRODUCTIONS
---
Moderator

Posts: 7575
Joined: Tue Oct 25, 2005 3:49 am
Location: Muskegon, Michigan
Contact:
Lily here. Sorry Gracie, nobody will teach me how to read a calendar! HAPPY BIRTHDAY
http://vimeo.com/12895512
---
Rank 1

Posts: 437
Joined: Tue May 03, 2005 8:59 pm
Location: Nevada
Contact:
Sweet Gracie I hope your birthday was wonderful! Please tell us all the details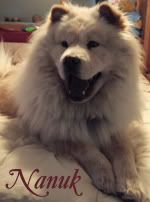 ___________________________
Christine & Nanuk
---
Rank 3

Posts: 3658
Joined: Thu Mar 03, 2005 7:03 am
Location: North Chesterfield, (Right outside Richmond) Virginia
Contact:
Hi Gracie, it's me Firesong...
and me Dreamdancer!
Happy happy belated birthday, mom didn't tell us.
But we hope you had a fun day with lots of treats and special stuff,
did you get to go zoomies somewhere?
Victory, Darkwind, (our angel), Firesong, and Dreamdancer

Thank you SweetPea!
---
---
Return to "Special Events, Birthdays & Anniversaries"
Who is online
Users browsing this forum: No registered users and 1 guest