Moderator: chowadmin
Moderator

Posts: 2705
Joined: Wed Mar 02, 2005 9:37 am
Location: SF Peninsula
---
Rank 2

Posts: 552
Joined: Sun Feb 13, 2011 4:05 pm
Bless

happy gotcha day tigger.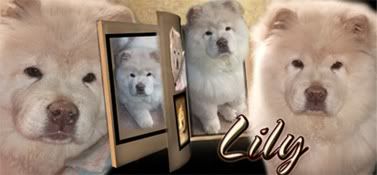 Pretty little lily

. Thank you sweetpea for the wonderful banner
---
What a beautiful lady. Happy gotcha day Tiggy!

---
Rank 3

Posts: 3123
Joined: Tue Oct 03, 2006 7:28 am
Location: McDonough, GA
Contact:
Such a beautiful boy!

HAPPY GITCHA DAY TIGGY!!!!
Jess
R.I.P. Cinder~1992-1994, Tippsy~9/00-4/11, Jasper~10/08-10/14, Todd~2/11-7/15
Dixie: mix Rebel: mix
---
Moderator

Posts: 2705
Joined: Wed Mar 02, 2005 9:37 am
Location: SF Peninsula
Tiggy's Gotcha Cake! Okay, the cake was for me but I did own the 3 pairs of shoes he chewed when he was a teething chowling!
Thank you for the Gotcha greetings! The party is over. Tiggy and our houseguest, Indigo are now resting after feasting at Tiggy's Gotcha Buffet. They'll wake up after their nap and nudge me for a cookie.
"BeckiHutton" and "Cocoa", I don't think you were members when Tiggy and I first met. Here is his rescue thread:
http://forum.chowchow.org/viewtopic.php?f=21&t=7222
---



Happy Gotcha Day!Tiggy ....sorry,we are late but we were out of town...4 years already - oh my!!! Many Chow hugs to you, your Mom, and sister Indigo. I am sure that PB is celebrating your b-day with brother Zhuyo, too! You are one special Chowboy!
Karen, Kohana, Takoda, and our Chow Angels Nahkohe and Shiloh
---
Rank 0

Posts: 43
Joined: Wed Oct 05, 2011 1:05 pm
...only just seen this post....so I'm late..but wanted to say...Tiggy is gorgeous !!..happy (belated) 'gotcha day'

Chrissy & Maya
Thank you Siriol for the lovely banner
---
I just read up on the past threads.
Well HAPPY GOTTCHA DAY AND MANY MORE..
Its amazing the fun and joy these fur kids bring us .. even if it means a shoe or 2 or 3 ..Cake looks wonderful hope you all enjoyed your day..
Hugs and purple slurps from Nikki

---

I meant what a beautiful boy! Sorry Tigger, purple kisses from Cocoa!
---
Rank 4

Posts: 6320
Joined: Wed Mar 02, 2005 9:49 am
Location: Cheshire, On The Island.(But always wishing she was back home in Wales)
Well Tigger boy - nearly another year since you got a "Happy Gotcha Day" present.
Today is your Mommie's birthday. I hope you and the house-guest Ms. Indigo remembered and have said "Happy Birthday" to her.
Give her some special snuggles and purple kisses.


(Thank you Sweetpea for my new banner.)
---
Happy Gotcha Day, Tigger - and a big Happy B-day to your mommy!

Karen, Kohana, Takoda, and our Chow Angels Nahkohe and Shiloh
---