Moderator: chowadmin
Rank 3

Posts: 4304
Joined: Sat Feb 03, 2007 10:20 pm
Location: New Orleans,La.
Hard to believe Miss Kyra is 2 yrs old already and then again it seems we have been together forever.

Ups & Downs and back again. She has come along way and has grown into such a SWEET SWEET GIRL!!! She has always been and still is such a loving Chow Girl. Her favorite people are still the lil' people and although she is a BIG girl she is soooooo gentle around them. Here's to loving you my Ky, my big sweet blueTeddy Bear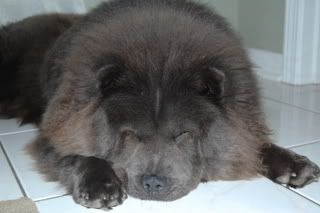 Thanks Sweetpea!
---
Happy 2nd Birthday Kyra. You certainly have grown into a beauty!!! Hope you get lots of treats and walks!!

SweetPea Rocks!!
---
Happy birthday, Kyra! You are a wonderful chowgirl and I can tell you are loved a lot!
CoraP.
Remember this, and also be persuaded of its truth - the future is not in the hands of fate, but in ourselves.
Jules Jusserand
---
HAPPY BIRTHDAY, KYRA!!!!

Jess

---
Happy Birthday Kyra!!
---
Moderator

Posts: 7575
Joined: Tue Oct 25, 2005 3:49 am
Location: Muskegon, Michigan
Contact:
It seems like just yesterday she was a wee chowling. Happy day, Miss Kyra!!
http://vimeo.com/12895512
---
Happy 2nd Birthday Kyra!!!
You are a such beautiful girl, I bet you got lots of nice treats and great bigs hug from your mom!!!!

Leo would love you and sends
purple kisses
!!!!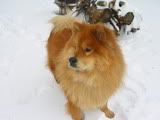 LEO
---
Happy, Happy Birthday, Sweet Girl!!
Cindy & Kodi
I Wanna Go Chase Something!!!!!
Compliments of SWEETPEA - Banner Artiste Extraordinaire
Dogster page:
http://www.dogster.com/pet_page.php?j=t&i=36558
---
Yay! Happy Birthday Kyra. In our experience, dogs do start growing up at 2 -- like they come out of the "teen" years. But they do "grow up" way too fast.
courtsey of Sweetpea
---
Happy Birthday Kyra!!!! Such a beautiful birthday girl!!!

Awesome banner compliments of Sweetpea, Thank you!
---
Karen, Kohana, Takoda, and our Chow Angels Nahkohe and Shiloh
---
Happy, Happy, Birthday Kyra!!!
**Photo by Sweet Pea.
She has a photogenic memory...really!
---
HAPPY BIRTHDAY KYRA, HUGS AND PURPLE KISSES MAXINE AND YOSHI
---
---
Return to "Special Events, Birthdays & Anniversaries"
Who is online
Users browsing this forum: No registered users and 2 guests