Moderator: chowadmin
Rank 4

Posts: 6320
Joined: Wed Mar 02, 2005 9:49 am
Location: Cheshire, On The Island.(But always wishing she was back home in Wales)
Happy Day, Special. Hope you have some nice treats.
The flag is flying for you.



(Thank you Sweetpea for my new banner.)
---
Have a great day, Special!!

CoraP.
Remember this, and also be persuaded of its truth - the future is not in the hands of fate, but in ourselves.
Jules Jusserand
---
Hope you get lots of treats Special!!

SweetPea Rocks!!
---
Rank 3

Posts: 4327
Joined: Tue Mar 21, 2006 7:47 am
Location: Maryland
Oh thank you, thank you everyone. Milly and Mabel, thank you so much for flying the flag for lil' old me!

Mommy and Daddy are going to celebrate my b-day this weekend. We will go on lots fo walks, play with lots of toys and TREATS!

Here's a photo of me from a few weeks ago.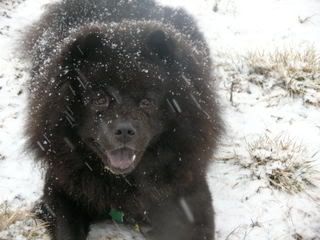 It's hard to believe I've been here for three years now. Mommy asks me what my life was like before I came to live with them. She's always gushing over me, hugging me saying how much she loves me, how I'm her heart, blah blah... where are the treats is all I want to know!


This photo arrangement is the wonderful work of Sweetpea
---
Happy Special Day, Spesh! Many happy treats...



Big Baby Leonora

---
Happy Day Special Dark!
Hope you get twice the treats since you have to wait until the weekend

Karen, Kohana, Takoda, and our Chow Angels Nahkohe and Shiloh
---
Happy Special day to you....Happy Special day to you....Happy Spe-cial day Special...Happy Special day to youuuuuuu......

Mia and Chutters here, singing the Special Birfday song. (Mommy doesn't sing because her voice scares people and dogs, but elks love it, LOL!!)

Purple smooches to you!
Mia
---
Oh happy birthday pretty boy!!
I'm sure you're going to get a wonderful celebration this week end!!

We want to see the pictures when you open the presents AND when you eat the cake...
Coco send purple kisses.

Elodie
please help feed animals in shelters for free, click daily on the yellow button
http://clicanimaux.com/
---
Happy birthday Special

Have a wonderfully

special party
Mishka and his family
---
Awww I missed this! Happy Birfday Special one!!!
(psst tell your mommy we miss her around here!)
Chloe (left) Shuggy (right)
---
Special D, our special Chow boy.

Sorry I missed your special day, but hope you have many more with your mommy and daddy. We miss all of you!!
---
Moderator

Posts: 7575
Joined: Tue Oct 25, 2005 3:49 am
Location: Muskegon, Michigan
Contact:
Happy day, Spesh. Sorry we missed it, Lily is a bit miffed that we did not give you glad tidings in a timely manner. Tell your mum to come on and tell us about your day, we miss her posting about you!
http://vimeo.com/12895512
---
Rank 3

Posts: 4304
Joined: Sat Feb 03, 2007 10:20 pm
Location: New Orleans,La.
Awwww Sorry we missed your Birthday Day Special!!! Hope you had a wonderful day and I agree with Laura we sure do miss you around here


Thanks Sweetpea!
---
---
Return to "Special Events, Birthdays & Anniversaries"
Who is online
Users browsing this forum: No registered users and 2 guests