Moderator: chowadmin
Rank 4

Posts: 6320
Joined: Wed Mar 02, 2005 9:49 am
Location: Cheshire, On The Island.(But always wishing she was back home in Wales)
Happy Day Bruin - your special flag was flown today on a clear but cold day here on The Island.
Milly and Mabel send purple kisses and Hector says Cheers!


(Thank you Sweetpea for my new banner.)
---
Rank 3

Posts: 2091
Joined: Sun Oct 28, 2007 2:36 pm


Yay Bruin!!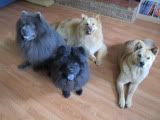 ---
Moderator

Posts: 2705
Joined: Wed Mar 02, 2005 9:37 am
Location: SF Peninsula
Oh, thank you so much for the nice wishes and for flying our flag on my day. It is very thoughtful. Want to hear how I spent the weekend? Well....
Mommy woke us up really early on Saturday to cook us breakfast. She said it was my special day. In the evening, Mommy had some delicious tasties catered for me and my friends here. Thick slices of bacon and teppanyaki seared beef. It was a good midnight snack to cap off my day. My sister, the Grand Misstress Pooh-bah Bear, says I am one now and no longer a chowling. My best friend, Tigger, says he can still take me, even though I am much taller than him. Then Sunday after my birthday, mom and I went to meet a bunch of people at a street fair. There were alot of dogs there. Little yappy ones kept yapping and the big ones just stepped aside. GMP'bahB told me now that I am one, the big dogs would make way for me as I walk by like how Tiggy and I have to step aside when she walks by - pretty cool. I met three families. They were nice. One had a raven furr'd chow who was stuck up. GMP'bahB told me to stay away from the stuck-up ones because they are very high-maintenance. So I sniffed her butt as a courtesy and it was just "okay". I sniffed it a couple times more. I didn't feel the "vibe". And as my best friend, Tigger, would say "not ankle biting worthy". I also got in trouble on Wednesday. But everything is okay now.
Thank you again!
Your friend,
Bruin, age 1
---
Rank 4

Posts: 6320
Joined: Wed Mar 02, 2005 9:49 am
Location: Cheshire, On The Island.(But always wishing she was back home in Wales)
Sounds like you had lovely weekend BBB (Big Boy Bruin). Glad you enjoyed your treats and it is nice to see that you are treating Miss PB with respect - all the respect she deserves.

(Thank you Sweetpea for my new banner.)
---
Moderator

Posts: 2705
Joined: Wed Mar 02, 2005 9:37 am
Location: SF Peninsula
---
Happy Day to you Bruin,
You are looking so grown up now!
Karen, Kohana, Takoda, and our Chow Angels Nahkohe and Shiloh
---
Oh Bruin! I am sorry I missed your Special Day! Happy Birthday, Big Boy!
http://vimeo.com/12895512
---
Rank 1

Posts: 437
Joined: Tue Apr 03, 2007 9:01 pm
Location: The Hood (now in Vallejo)
Contact:
Happy Belated Birthday Bruin!!

Cue here, don't worry about getting in trouble once in a while, I get in trouble most every day! Although my mommy knows I mean to be a good boy....
---