Moderator: chowadmin
Rank 1

Posts: 264
Joined: Fri Nov 03, 2006 12:33 pm
Location: Fort Lauderdale, Florida
Happy 2nd Birthday my sweet girl Naomi!!!! I love you so much and I am blessed that you came into my life!
Missi

created by the AMAZINGLY TALENTED sweetpea
---
Happy Birthday gorgeous girl. Hope you get well and truly spoiled!

Thanks so much Sweetpea, you're a star!
---
Happy Birthday Naomi!!! You are such a pretty Chowling!
Karen, Kohana, Takoda, and our Chow Angels Nahkohe and Shiloh
---
Have a wonderful day sweet Naomi!!



Elodie
please help feed animals in shelters for free, click daily on the yellow button
http://clicanimaux.com/
---
Happy Birthday Sweet Paws!

I love you!!!





Love,
Your boyfriend.....Colonel
**Photo by Sweet Pea.
She has a photogenic memory...really!
---
Rank 3

Posts: 3123
Joined: Tue Oct 03, 2006 7:28 am
Location: McDonough, GA
Contact:
HAPPY BELATED BIRTHDAY, NAOMI!!!!!
Jess
R.I.P. Cinder~1992-1994, Tippsy~9/00-4/11, Jasper~10/08-10/14, Todd~2/11-7/15
Dixie: mix Rebel: mix
---
Happy birthday, Naomi! I hope you got lots of treats!
CoraP.
Remember this, and also be persuaded of its truth - the future is not in the hands of fate, but in ourselves.
Jules Jusserand
---
Two, already!!
Happy belated birthday to you, Naomi!





Leonora & mum
---
Rank 3

Posts: 4304
Joined: Sat Feb 03, 2007 10:20 pm
Location: New Orleans,La.
Awwwww HAPPY BIRTHDAY Foxy Girl!!! Hope Mom got you some yummy treats

Love You,
Kearra, Kyra & Me

Thanks Sweetpea!
---
Rank 3

Posts: 2091
Joined: Sun Oct 28, 2007 2:36 pm
Happy Birthday!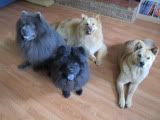 ---