Moderator: chowadmin
Rank 3

Posts: 2091
Joined: Sun Oct 28, 2007 2:36 pm
Happy gotcha day our little girl!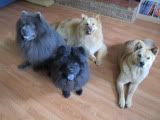 ---
Happy Gotcha Day to you, Happy Gotcha Day to youoooo.....

Chutters and Mia here - we stopped mom from singing to ya, ha ha!

Big purple kisses!
Mia
---
Happy Gotcha Day Miss Hannah!!

SweetPea Rocks!!
---
Rank 3

Posts: 2091
Joined: Sun Oct 28, 2007 2:36 pm
It's hard to believe it's already been one year. Time flies! And she is finally finally starting to calm down and not destroy my house/furniture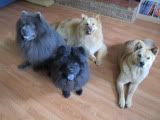 ---
Happy belated gotcha day, Hannah! I'm glad she is settling down.
CoraP.
Remember this, and also be persuaded of its truth - the future is not in the hands of fate, but in ourselves.
Jules Jusserand
---
Wow...can't believe it has been a year already! Happy Gotcha Day Miss Hannah! We all love hearing about your antics trying to turn mom's hair gray!

Chloe (left) Shuggy (right)
---
Rank 3

Posts: 4304
Joined: Sat Feb 03, 2007 10:20 pm
Location: New Orleans,La.
Awwwwwww HAPPY GOTCHA DAY MISS HANNAH



Thanks Sweetpea!
---