Moderator: chowadmin
Dear Mishka,
You are 4 years old today November 4, 2008. All your family wants to congratulate you.
You have many different names. Your official name is Cherub Michael Sweet Dream. And yes such a sweet dream you are. Some of your friends and neighbors know you as Michael. This is easier for them to pronounce. We call you Michael when we really, really want you to follow our command. This name was used in your training. Richness of Russian language in suffixes gives other variants of your name: Mishka, Misha, Mishutka, Mishanya. We are quite sure that you now all of them and if you are not answering for a call it is because of your chow independence and not because you are confused.
Four years ago we saw announcement about your litter on the web. At that moment we only new that we want red rough male chow puppy from a breeder not far from us. We had not any idea how to distinguish good breeder, what questions to ask, how to chose a puppy. We would be happy with any chow puppy. That you exceeded any of our expectations is our pure luck.
Your openness to people is what suit you so well with our family. From your first weeks in our house you were surrounded with our friends: kids and adults, old and young. You usually like new humans and if you are not we tend to share your opinion.
We love to see your face happy and promise to do everything to keep it that way. You can be overexcited some times, but that is from your keen interest in what is going around.
You reached maturity this year, but people around still call you a puppy because you are so happy and active. Please, keep it the way in the years to come. We know that we spoiled you and not just a little bit. Thank you for not abusing it too much.
We wish you to be healthy, happy and active and always surrounded with love.
Yana, Anastasia, Igor owned by Mishka.
Last edited by
Igor
on Tue Nov 04, 2008 2:03 pm, edited 1 time in total.
Mishka and his family
---
Happy Birthday Beautiful Miskha


Thank you Elodie!
---

S dnem rozhdeniya!!!
You are so beautiful sweet Mishka! I hope you have a wonderful birthday!
Elodie
please help feed animals in shelters for free, click daily on the yellow button
http://clicanimaux.com/
---
S dniom roždenija!!! And many more!!!


---
Rank 3

Posts: 2091
Joined: Sun Oct 28, 2007 2:36 pm
Happy birthday Mishka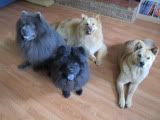 ---
Happy Birthday Mishka!!!!

SweetPea Rocks!!
---
Oh Igor I'm sorry I'm late with this. I hope Mishka had a fantastic 4th Birthday, he is just sooooooo gorgeous!!
Thanks so much Sweetpea, you're a star!
---