Moderator: chowadmin
Rank 0

Posts: 14
Joined: Sat Mar 08, 2008 8:52 pm
Location: Southern Illinois
Tempest is 1 today!
Tempest Juno Jones
"AKA Baby Girl"
---
Rank 3

Posts: 2091
Joined: Sun Oct 28, 2007 2:36 pm
Happy birthday! Did you get lots of treats today??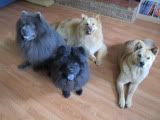 ---
Happy birthday Tempest!! A first birthday is really important! I hope you had a great day!

Elodie
please help feed animals in shelters for free, click daily on the yellow button
http://clicanimaux.com/
---
Happy Birthday Tempest,

from Mia and Chutters
Mia
---
Happy belated birthday, Tempest. I wish you many, many more!!!
CoraP.
Remember this, and also be persuaded of its truth - the future is not in the hands of fate, but in ourselves.
Jules Jusserand
---
Cute Picture!! Happy B-lated Birthday Tempest!!

SweetPea Rocks!!
---