Moderator: chowadmin
Chow Power!!!
---
Rank 1

Posts: 300
Joined: Fri Sep 05, 2008 5:58 am
Location: Parrish, FL
Those are probably some of the best birthday pictures I've seen!

Congrats to your kiddos!
---
Happy birthday, Buster and Twixie!!
CoraP.
Remember this, and also be persuaded of its truth - the future is not in the hands of fate, but in ourselves.
Jules Jusserand
---
Yeahh! Happy birthday!!
Great cake, mmmh...

Elodie
please help feed animals in shelters for free, click daily on the yellow button
http://clicanimaux.com/
---
Happy, Happy Birthday to both of you, Buster and Twixie!
Mia
---
What fantastic pictures, they look like they had a great time. Are they brother & sister?
Thanks so much Sweetpea, you're a star!
---
Happy 2nd Birthday. Love the cake and love the captions!!!

SweetPea Rocks!!
---
Rank 1

Posts: 273
Joined: Wed Apr 09, 2008 12:24 pm
Location: Newfoundland Canada
Happy Belated Birthday!!

- That it one fantastic cake!! Your pics are sooooo good. Hope they had a great day!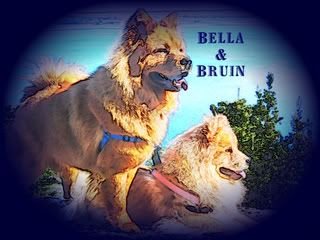 Tyler, Jenna, Bella & Bruin.
---
Thank you for all the greetings and kind comments!

Yup, Buster and Twixie are brother and sister. Indeed, they had a great time! But I don't know who enjoyed the party more, them or me! Hahahaha!

We have another "comic adventure" posted on the chow galley.

Chow Power!!!
---
Rank 3

Posts: 2091
Joined: Sun Oct 28, 2007 2:36 pm
Happy birthday you two!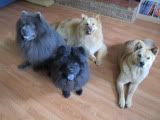 ---
What a great B-day cake! HAPPY BIRTHDAY BUSTER & TWIXIE!
Karen, Kohana, Takoda, and our Chow Angels Nahkohe and Shiloh
---