Moderator: chowadmin
We celebrated Tod's birthday today...I found him in March last year and figured he was about 6 months old...so it's 1 October for him!! We celebrated the same way as Sammy's...sardines and Frosty Paws.

Party animals!!
---
Happy Birthday!!!


Mmmm...Mia and Chutty love Frosty Paws!
Mia
---
Mmmmh, and Coco loves sardines!!
Happy birthday Tod!!!
Elodie
please help feed animals in shelters for free, click daily on the yellow button
http://clicanimaux.com/
---
Happy Birthday Tod, sounds like you had some nummy birthday treats!!

SweetPea Rocks!!
---
Happy birthday, Tod! You are lucky to be so loved!

CoraP.
Remember this, and also be persuaded of its truth - the future is not in the hands of fate, but in ourselves.
Jules Jusserand
---
Rank 3

Posts: 2091
Joined: Sun Oct 28, 2007 2:36 pm
Happy Birthday Tod!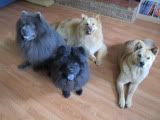 ---
Happy belated birfday Todster!!



Chloe (left) Shuggy (right)
---
---
Return to "Special Events, Birthdays & Anniversaries"
Who is online
Users browsing this forum: No registered users and 3 guests