Moderator: chowadmin
Today is Samantha's Gotcha Day!! I know it was two years ago, but it seems like she's been with me forever. She's been through a lot...with me and before she came to me. Sammy definitely had a guardian angel looking out for her when she was rescued after Katrina. I think she might be part cat and has nine lives.
I'll never forget the way she came barreling out of the crate at the airport like she was announcing "I'm here! Let's go home!!"
This is her Petfinder pic that brought her to me...
Attachments

Samantha.jpg (14.93 KiB) Viewed 1567 times
---
Awww...Happy Gotcha Day, Samantha!

Now that picture definately says, "take me home now, I'm ready!!"
Mia
---
Moderator

Posts: 7575
Joined: Tue Oct 25, 2005 3:49 am
Location: Muskegon, Michigan
Contact:
Samantha, you have charm and beauty, it is easy to see why Phyllis wanted you! Many more anniversaries, my sweet!
http://vimeo.com/12895512
---
HAPPY DAY Samantha

wishing you many more happy healthy years with your family !
Kito Feb 4, 2006 - July 1,2007
Kai Mar.15 2007 - Aug. 26,2010
And when my time comes I will not go alone for my Chows will be there to say "Welcome Home".
---
Happy Gotcha Day Miss Samantha!!



Chloe (left) Shuggy (right)
---
She looks like such a happy girl! Happy Gotcha day Samantha!!!
Awesome banner compliments of Sweetpea, Thank you!
---
Rank 3

Posts: 2091
Joined: Sun Oct 28, 2007 2:36 pm
Happy gotcha day Samantha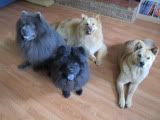 ---
What a beautiful girl!
Happy gotcha day Samantha!!

Elodie
please help feed animals in shelters for free, click daily on the yellow button
http://clicanimaux.com/
---
Happy Gotcha Day, Samantha!
Karen, Kohana, Takoda, and our Chow Angels Nahkohe and Shiloh
---
Samantha thanks everyone for the well wishes (so do I). She wanted everyone to know that she celebrated when mom got home from work by eating sardines on the back patio and then a nice, cold Frosty Paw.

---
Such a pretty girl!! Happy Gotcha Day.

SweetPea Rocks!!
---
HaPpY GoTcHa DaY SAMANTHA!
Mmmmmm...Sardines!!! Lucky, lucky gorgeous girl!
Jennifer & Sheena
---
Happy Gotcha Day Samantha. Hope you enjoyed your sardines and frosty paw. Sorry it's late

Thanks so much Sweetpea, you're a star!
---
---
Return to "Special Events, Birthdays & Anniversaries"
Who is online
Users browsing this forum: No registered users and 1 guest