Moderator: chowadmin
Rank 3

Posts: 2091
Joined: Sun Oct 28, 2007 2:36 pm
Happy birthday you two!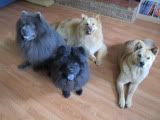 ---
Well Happy Birthday!!!

SweetPea Rocks!!
---
Happy birthday Casey and Brucie! May you celebrate many more!!
CoraP.
Remember this, and also be persuaded of its truth - the future is not in the hands of fate, but in ourselves.
Jules Jusserand
---
HEY Casie and Brucie...Troy de Bad Boy here. Today's the day you can be MiScHeIvoUs and DeViOuS...so go for it!!!!!


ENJOY!
TROOOOY...

Much Health, Fun and Long Life to Casey and Brucie! Jennifer and Sheena
Jennifer & Sheena
---
sorry I missed this but HAPPY BELATED BIRTHDAY Casey and Brucie
hope you both had a great time

Kito Feb 4, 2006 - July 1,2007
Kai Mar.15 2007 - Aug. 26,2010
And when my time comes I will not go alone for my Chows will be there to say "Welcome Home".
---
Yeah! Happy birthday Casey and Brucie!!!


Elodie
please help feed animals in shelters for free, click daily on the yellow button
http://clicanimaux.com/
---
---
Return to "Special Events, Birthdays & Anniversaries"
Who is online
Users browsing this forum: No registered users and 2 guests