Moderator: chowadmin
Rank 1

Posts: 256
Joined: Mon Aug 27, 2007 3:52 pm
Location: Mesick Michigan
Today is Milo's first anniversary. We are grateful to everyone on this site that were involved in anyway for him coming to our home. He has healed our hearts.

Milo has asked for steak for his day (big suprise!)

Thanks everyone for being a small part of our celebration.

Debra, John and Milo
Debra: Hobo and Milo's Mom
Banner by Sweetpea!
---
HaPpY aNnIvErSaRy MILO!
Hope you have an exceptionally great day chompin' on your steak!
SO glad you got a forever home with Debra and John!
Jennifer & Sheena
---
He is such a beautiful boy! Happy Gotcha Day Milo!!



Chloe (left) Shuggy (right)
---
HAppy Gotcha Day/Anniversary!!

SweetPea Rocks!!
---
Happy first anniversary, Milo! You are a handsome boy! Enjoy your steak!!
CoraP.
Remember this, and also be persuaded of its truth - the future is not in the hands of fate, but in ourselves.
Jules Jusserand
---
Rank 3

Posts: 2091
Joined: Sun Oct 28, 2007 2:36 pm
Happy anniversary Milo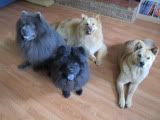 ---
Rank 1

Posts: 256
Joined: Mon Aug 27, 2007 3:52 pm
Location: Mesick Michigan
Thanks! We think he is pretty special!

Deb, John and Milo
Debra: Hobo and Milo's Mom
Banner by Sweetpea!
---
Happy Belated 1st Anniversary sweet Milo and wishing you many more happy and healthy years with your family

Kito Feb 4, 2006 - July 1,2007
Kai Mar.15 2007 - Aug. 26,2010
And when my time comes I will not go alone for my Chows will be there to say "Welcome Home".
---
Milo, how was that steak??
Elodie
please help feed animals in shelters for free, click daily on the yellow button
http://clicanimaux.com/
---
---
Return to "Special Events, Birthdays & Anniversaries"
Who is online
Users browsing this forum: No registered users and 2 guests