Moderator: chowadmin
My Chloe is 1 today! How time flies! Happy Birthday to my little girl! All grown up now but still my baby! She was not the least impressed with my singing Happy Birthday to her this morning but that's my girl!!

Chloe (left) Shuggy (right)
---
Happy birthday to you, happy birthday to you, happy birthday dear Chloeeeeeee, happy birthday to youuuuuuuuuuuuuuu.
Attachments

hamster.jpg (112 KiB) Viewed 1282 times
---
Rank 3

Posts: 2091
Joined: Sun Oct 28, 2007 2:36 pm
Happy birthday Chloe!!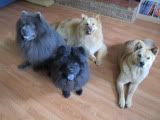 ---
Moderator

Posts: 4594
Joined: Fri May 19, 2006 10:01 am
Location: Ingleside, Illinois
Contact:
OMG... can you belive its a year already? HOLY CHOW! .... HAPPY CHOWB-DAY TO YOU.... HAPPY CHOWB-DAY TO YOU... HAPPY CHOW - B D A Y TO YOUUUUUUUUUUOOOOOOOOOO.... HAPPY CHOW BDAY TO YOU!

caugh caugh flem flem... (sorry... my bad) LOL.


---
Enjoy Chloe!
HaPpY,
HaPpY
BiRtHdAy!!!!!/



Jennifer & Sheena
---
Oh wow, sorry that we missed this Miss Chloe. Happy happy belated Birthday to you

M&A, xx

Thank you Elodie!
---
Oh I'm sorry I missed Chloe's birthday too!! Happy 1st Birthday gorgeous girl

Thanks so much Sweetpea, you're a star!
---
Well Happy Birthday Chloe. Hope you got something other than your momma singing happy birthday to you!! Hope she sings better than mine.
Butters

SweetPea Rocks!!
---
Happy birthday, Chloe...you're still a young pup! May you enjoy many more years with your family!!

CoraP.
Remember this, and also be persuaded of its truth - the future is not in the hands of fate, but in ourselves.
Jules Jusserand
---
---
Return to "Special Events, Birthdays & Anniversaries"
Who is online
Users browsing this forum: No registered users and 1 guest