Moderator: chowadmin
Rank 3

Posts: 1254
Joined: Tue Oct 31, 2006 9:22 pm
Location: Ohio
Contact:
Today is Fiona's very special day. A year ago today she made the trip from Holland MI to Marietta OH to start her new life. It has been a wonderful year, trying at times, but I wouldn't trade a single day. I have some new pictures but they will have to wait until tomorrow.
Amanda
Sweetpea Designs
"Many people talk to animals...not many listen though. That's the problem" The Tao of Pooh
---
Rank 3

Posts: 2091
Joined: Sun Oct 28, 2007 2:36 pm
Happy sent to your forever home day Fiona!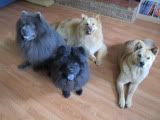 ---
Awww Happy Gotcha Day Miss Fiona.
Chloe (left) Shuggy (right)
---
Happy belated Gotcha Day Fiona!!!
---
Oh Fiona, Happy gotcha/happy home day!!!

SweetPea Rocks!!
---
Rank 2

Posts: 772
Joined: Thu Sep 21, 2006 6:05 am
Location: Metro Atlanta GA
Wow, I can't believe it has already been a year. She has come a long way from being tied up to a radiator in some jerkwads backyard to her home with you now. Always makes me smile to see her pic in your sig.

---
you helped her become the beautiful girl she is today

Happy Day Fiona !
Kito Feb 4, 2006 - July 1,2007
Kai Mar.15 2007 - Aug. 26,2010
And when my time comes I will not go alone for my Chows will be there to say "Welcome Home".
---
Rank 1

Posts: 256
Joined: Mon Aug 27, 2007 3:52 pm
Location: Mesick Michigan
She is just awesome looking! I can't believe the difference. Fiona I hope you had a great day! After meeting your Mom, I am sure you did!!!

Deb, John and Milo
Debra: Hobo and Milo's Mom
Banner by Sweetpea!
---
Happy Gotcha Day, Fiona!
Karen, Kohana, Takoda, and our Chow Angels Nahkohe and Shiloh
---
Moderator

Posts: 7575
Joined: Tue Oct 25, 2005 3:49 am
Location: Muskegon, Michigan
Contact:
Happy Gotcha Day, Fiona! And a big acknowledgement to Larry and Terrina at TLC Chows; without them coming to the rescue, who can say what would have become of that beautiful girl!
http://vimeo.com/12895512
---
---
Return to "Special Events, Birthdays & Anniversaries"
Who is online
Users browsing this forum: No registered users and 2 guests