Moderator: chowadmin
Moderator

Posts: 2705
Joined: Wed Mar 02, 2005 9:37 am
Location: SF Peninsula
---
Happy birthday, Millie and Mabel. You are both so beautiful! May you celebrate many more!

CoraP.
Remember this, and also be persuaded of its truth - the future is not in the hands of fate, but in ourselves.
Jules Jusserand
---
Happy, Happy Birthday, Milly & Mabel!!!


Did you get the special cake?
Many Happy Returns!

Big Baby Leonora


---
Moderator

Posts: 4594
Joined: Fri May 19, 2006 10:01 am
Location: Ingleside, Illinois
Contact:
HAPPY BIRTHDAY!



---
Rank 3

Posts: 4304
Joined: Sat Feb 03, 2007 10:20 pm
Location: New Orleans,La.
HAPPY BIRTHDAY MILLIE & MABEL!!!!



Hope you girls had a wonderful Birthday~~~~

Thanks Sweetpea!
---
Happy Birthday to 2 VERY VERY FOXY ladies!
Wahoooooo.
Hope your birthday 's grand Millie and Mabel!
Lot's of purple xxxxxx's... Troy de Bad Boy



Jennifer & Sheena
---
Happy Birthday to our special Millie & Mabel!
Karen, Kohana, Takoda, and our Chow Angels Nahkohe and Shiloh
---
Rank 3

Posts: 2091
Joined: Sun Oct 28, 2007 2:36 pm
Holden and Hannah send you two a very happy birthday wish!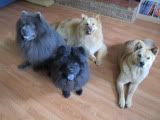 ---
Rank 4

Posts: 6320
Joined: Wed Mar 02, 2005 9:49 am
Location: Cheshire, On The Island.(But always wishing she was back home in Wales)
Oh! Oh! Oh!
Milly and Mabel here!
Thank you everybody for saying Happy Birthday to us. Thank you Miss Pooh Bear and Tigger and Bruin and Beautiful Baby Leonora and Troy de Good Boy and Holden and Hannah.
Thank you everybody. Oh! Oh! We are so happy 'cos we are having a happy birthday.
Our Daddy has hoisted the Chinese Flag for us today. He says every year he must buy a "Happy Birthday" flag especially for us but he forgets. He has a Happy Christmas Flag and a Happy New Year Flag.
We are going to go for a walk after our Mummy and Daddy have eaten their lunch.
Oh! We are 8 yrs. old today and we are having a lovely birthday. Our Mummy and Daddy have hung out the balloons and our Happy Birthday Banner and we have had our photo taken and we are going to have some cake this afternoon with Hector!
Oh! Oh! Oh! We are looking forward to our cake 'cos we love cake.
(Thank you Sweetpea for my new banner.)
---
Happy Birfday you beautiful ladies!!!

Chloe (left) Shuggy (right)
---
Hope you two beautiful Chow ladies had a beautiful birthday!! Did the Queen Mum send her wishes???
Attachments

M&M.jpg (44.8 KiB) Viewed 1571 times
---
Butters and I send Happy Birthday wishes!!!! Enjoy that cake girlies!!

SweetPea Rocks!!
---
Moderator

Posts: 7575
Joined: Tue Oct 25, 2005 3:49 am
Location: Muskegon, Michigan
Contact:
Oh my goodness! How did I miss this? Happy Belated Birthday
Millicent
and
Mabelline
!
http://vimeo.com/12895512
---
---
Return to "Special Events, Birthdays & Anniversaries"
Who is online
Users browsing this forum: No registered users and 2 guests