Moderator: chowadmin
Bear turns 8 today and Ping will be 3 tomorrow!


((These are their assigned birthdays.))
Time sure is flying...Bear was around 5 and Ping was about 7 months when I adopted them.
---
Moderator

Posts: 7575
Joined: Tue Oct 25, 2005 3:49 am
Location: Muskegon, Michigan
Contact:
Happy Birthday you two! You must be very special, look at how mommy got you another brother and sister, because she loved you both so much! Happy Happy Day!
http://vimeo.com/12895512
---
Rank 3

Posts: 2091
Joined: Sun Oct 28, 2007 2:36 pm
Happy birthday you two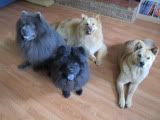 ---
Happy Birfday you two! Hope you get spoiled (more then usual

).

Chloe (left) Shuggy (right)
---
Happy Birthday Bear & Ping!!!
Thanks so much Sweetpea, you're a star!
---
OH Happy Belated Birthday Bear & Ping. Did you get lots of yummy treats!!!!

SweetPea Rocks!!
---
Rank 3

Posts: 4327
Joined: Tue Mar 21, 2006 7:47 am
Location: Maryland
Happy belated b-day Bear and Ping! Hope you had a great, great day!

This photo arrangement is the wonderful work of Sweetpea
---
I am late, but happy birthday Bear and Ping!
CoraP.
Remember this, and also be persuaded of its truth - the future is not in the hands of fate, but in ourselves.
Jules Jusserand
---
---
Return to "Special Events, Birthdays & Anniversaries"
Who is online
Users browsing this forum: No registered users and 2 guests