Moderator: chowadmin
Rank 4

Posts: 6320
Joined: Wed Mar 02, 2005 9:49 am
Location: Cheshire, On The Island.(But always wishing she was back home in Wales)
Happy Special Day Lily Ann.
Hope you have some lovely treats.

(Thank you Sweetpea for my new banner.)
---
Rank 3

Posts: 4327
Joined: Tue Mar 21, 2006 7:47 am
Location: Maryland
Happy, happy day Lily!!!!!!!!!!!! Have a wonderful day. Maybe Pip and Kitsy will even help you celebrate the whole weekend long!!!

____
Lily my sweet, I sure wish I was there to help you celebrate today. But I will be thinking of you!
Love,
Special D

This photo arrangement is the wonderful work of Sweetpea
---
Happy Birthday Miss Lily!!!

SweetPea Rocks!!
---
Live it up Miss Lily!!! Wooohoooo

---
Happy Happy Day for YOU, Lily!! MANY Happy Returns!
Leonora & mum
---
Oh! Thank you all for the nice well wishes. My mom forgot it was my birthday until the afternoon! It was a nice day, but then we had a short thunderstorm, but no worries, I ain't skerred of any stinkin' thunder! Then, mum felt guilty, so we went to Petco. We got 2 new kind of treats, and 2 cans of rabbit dinner! Yum, Yum! Haley took me for a walk, too. She never does that, so it was an unexpected surprise. Pleasant, for a change- usually Haley's unexpected surprises end up with me being cradled like a hooman baby, wishing I was anywhere else. I got to go to grandma's house today too, but no sign of the 'Empress' Kitsy Wu. A chicken with a funny headpiece wandered to their house, but the lady who own's it picked it up before I got to see it. Again, no worries, I know where those birds live. I escaped twice a couple weekends ago, and saw them...they have horses, too!
All in all, my birthday was a really good day!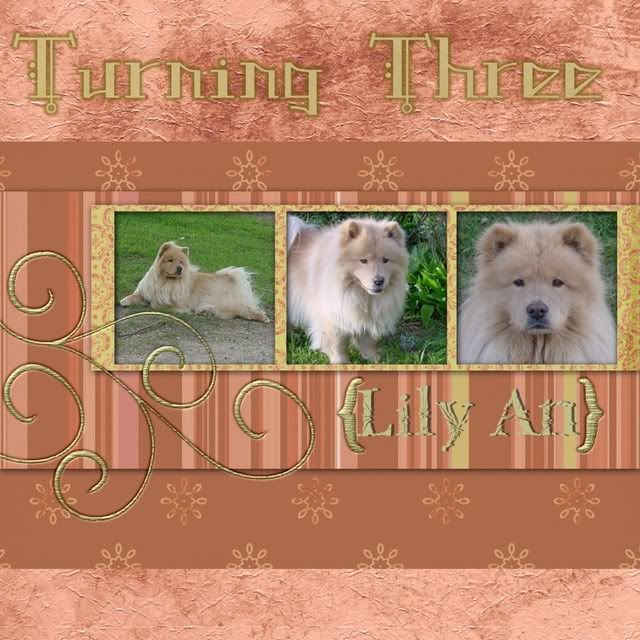 http://vimeo.com/12895512
---
Happy Day Ms. Lily Ann!!!
Karen, Kohana, Takoda, and our Chow Angels Nahkohe and Shiloh
---
Shame about the chicken but gald you had a good day with treats Miss Lily


Thank you Elodie!
---
Awwww Happy belated Birfday Lily Ann. BTW I love your middle name!!
Chloe (left) Shuggy (right)
---
Rabbit dinner? Mmmh, that sounds yummy!
Elodie
please help feed animals in shelters for free, click daily on the yellow button
http://clicanimaux.com/
---
Troy de Bad Boy here...hey good lookin'...ya got that rabbit a cookin'...eat some for me as well since I'm on a strict diet for my gotcha day. Hmmmm, we have somethin' in common Lily Ann!

Sounds like you'll be gettin' some zzzzzzzzzzzzz's tonight from your day today! Keep up your beauty sleep!
Jennifer & Sheena
---