Moderator: chowadmin
Rank 4

Posts: 6320
Joined: Wed Mar 02, 2005 9:49 am
Location: Cheshire, On The Island.(But always wishing she was back home in Wales)
Milly and Mabel's Bertie is 1 year old today and they shared a little apple cake with him and Hector to celebrate.

Fred flew the big yellow smiley flag for him as he is always smiling.

(Thank you Sweetpea for my new banner.)
---
Rank 3

Posts: 3123
Joined: Tue Oct 03, 2006 7:28 am
Location: McDonough, GA
Contact:
Happy First Birthday, Bertie!

The pictures are just adorable, Judy.

Jess
R.I.P. Cinder~1992-1994, Tippsy~9/00-4/11, Jasper~10/08-10/14, Todd~2/11-7/15
Dixie: mix Rebel: mix
---
Rank 3

Posts: 4327
Joined: Tue Mar 21, 2006 7:47 am
Location: Maryland
Happy birthday Bertie! Wow, how time flies!!!!!

I LOVE those pictures. The girls look so regal in that first shot. Look at that smile "darling, this is my best side!"

And the determination towards the cupcake- "when do we get it? Listen, Hector, Bertie, you go at it form that angle and I'll get ti from here!"


This photo arrangement is the wonderful work of Sweetpea
---
Happy birthday Bertie, Those pictures are so cute!!!

SweetPea Rocks!!
---
Happy birthday to you, Bertie!!
CoraP.
Remember this, and also be persuaded of its truth - the future is not in the hands of fate, but in ourselves.
Jules Jusserand
---
Happy Birthday, Bertie!

Those pictures are too, too cute!!

Cecelia
"To love what you do and feel that it matters - how could anything be more fun?" Katherine Graham
---
Happy Birthday Bertie! Nice Flag! Nice to see Fred keeping everyone in line.

Leonora & mum
---
Karen, Kohana, Takoda, and our Chow Angels Nahkohe and Shiloh
---

Thank you Elodie!
---
Happy birthday! Those are cute pix!!

Elodie
please help feed animals in shelters for free, click daily on the yellow button
http://clicanimaux.com/
---
Moderator

Posts: 7575
Joined: Tue Oct 25, 2005 3:49 am
Location: Muskegon, Michigan
Contact:
Happy Birthday Bertie! We have no smiley flags, but our village has a happy face water tower we will share. Been that way since the early 70's!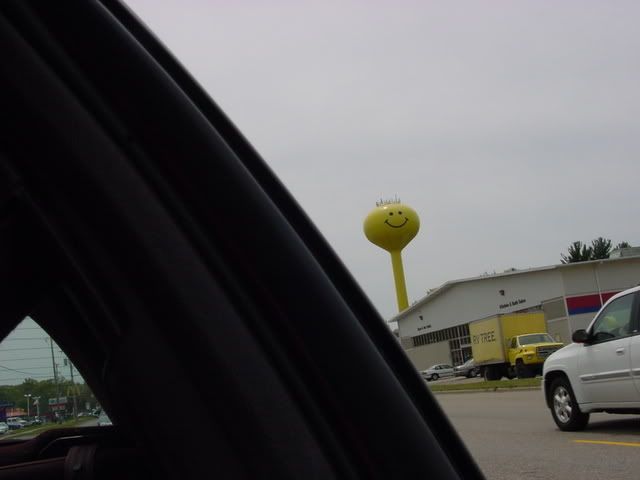 http://vimeo.com/12895512
---
---
Return to "Special Events, Birthdays & Anniversaries"
Who is online
Users browsing this forum: No registered users and 2 guests