Moderator: chowadmin
Here is a post from the community discussions:

Hello,
I am new to this site.
You are all wonderful and your Chows are beautiful.
I have Murphy a small maybe mix Red Chow, almost 5 years old.
I would like to join in on discussions from time to time but
my login remains inactive.
How long does it take to activate? It has been almost a week.
What do I do if it does not activate?
Thank you.
- M and M, Michelle and Murphy

Hopefully you can help her out!

Thanks!
Mandy, Chewie, & Cayenne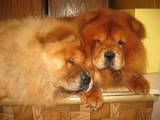 ---
Administrator

Posts: 531
Joined: Tue Mar 01, 2005 12:33 pm
Location: Los Angeles, CA
Contact:
Murphy's account has been activated. I sent Murphy an email.
---
---
Who is online
Users browsing this forum: No registered users and 1 guest