Moderator: chowadmin
Rank 0

Posts: 11
Joined: Tue Mar 07, 2006 2:17 pm
i need help in finding my dog King .my husband was forced to leave him and my other dog behind in Katrina. firefighter took him to jail because he would not leave them. we foumd Bear in albany new york with best friends animal rescue.we got him back after 87 days its been 190 days since i seen King. my dog pet finder # is pf55438 i believe pf30029 is my dog some one dropped the ball please help.
---
I'm so sorry. I can't imagine having to leave my dogs behind. I would have been right there in jail with your husband. what a nightmare! I hope you find King! Please let us know if you do. Do you have any pictures left? If I hear anything on my other boards, I'll let you know ASAP.

I'm so glad you found bear... I hope we can all rally to help you find King!!!
Mandy, Chewie, & Cayenne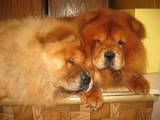 ---
Moderator

Posts: 2705
Joined: Wed Mar 02, 2005 9:37 am
Location: SF Peninsula
Have you found King? Did you contact petfinder directly with the ID number you suspect is King? It would have been nice if you gave us physical descriptions of King. That way we can help browse around for you.
---
Not sure if you're still looking for King (I hope to God you have been reunited by now).

I was checking petfinder.com msg board today and ran across this in the Katrina message subject section.
http://forums.petfinder.com/viewforum.php?f=16
This woman has been taking pictures and posting since Jan. (? I think; don't know all the details).
http://www.flickr.com/photos/spiritsmom/
Please review the 1st link for info and perhaps PM SpiritsMom.
Thinking of you,
Cindy & Kodi
I Wanna Go Chase Something!!!!!
Compliments of SWEETPEA - Banner Artiste Extraordinaire
Dogster page:
http://www.dogster.com/pet_page.php?j=t&i=36558
---
Rank 0

Posts: 11
Joined: Tue Mar 07, 2006 2:17 pm
hi thank you for the info. no i havent found him yet its been 219 days today. i will never give up. i dont know alot about computers so bear with me i actually dont even know how i did it. a hsus volenteer signed me in to help me find king. king pf#is 55438 the dog we think is king is pf# 30029 but no one knows where this dog is. thank you again. debra r
---
Moderator

Posts: 2705
Joined: Wed Mar 02, 2005 9:37 am
Location: SF Peninsula
Debra,
From the telephone number I PM'd you, did you contact Molly's Runs Kennel? Were they able to give you information on who and where pf30029 was adopted out to?
Here is my latest correspondence from the ABKA:
From : Carmen <Carmen@abka.com>
Sent : Wednesday, March 29, 2006 8:49 AM
To : "Lou"
Subject : RE: Looking for a displaced katrina dog


Lou,

HSUS is the Humane Society of the United States. The document was not a press release it was a "Memorandum of Understanding" between LASPCA, HSUS, and ASPCA and the "Satellite Shelters". As of October 16th the pets became the "property of the Satellite Shelter". We picked up from the "satellite shelter" on October 18th and moved animals to foster care so that the shelters could take more animals.

We can not force the new owners to return pets to previous owners. Molly's is a privately owned business who gave willingly of their time to help a small group of animals find new homes during a time of disaster.

Carmen
From: Lou
Sent: Friday, March 24, 2006 1:49 PM
To: Carmen
Subject: RE: Looking for a displaced katrina dog

Thanks for your quick reply, Carmen.
Does this mean Debra (King's mom/owner) has lost King forever? Is there anyway she can recover him? I know in California (where I live) our local humane societies have reunited Katrina dogs with their original owners even though they were adopted out. Also, what is HSUS and where can I obtain a copy of the press release? I would like to forward all this info to Debra. She and her husband were displaced from Louisiana to Florida. Also, where is Molly's Run Kennels?
Again, thank you for your help.
-Lou
From: "Carmen"
To: "Lou"
Subject: RE: Looking for a displaced katrina dog
Date: Fri, 24 Mar 2006 13:15:20 -0700
Lou,

All rescue animals from Molly's Kennel have been adopted out, as per our release from HSUS.

Carmen
---
Rank 0

Posts: 11
Joined: Tue Mar 07, 2006 2:17 pm
the best we can figure is that that dog was there only 1 night and of course no one can say where it went from there. if i could find out where it went i could probably track this dog down in a second.lou my bear lost his battle with cancer on fri march31 . we gave him back to god we will see him at rainbow bridge someday. i just had no idea how much it would hurt and how much i would miss him. the heartache is unbearable. debra r
---
Moderator

Posts: 2705
Joined: Wed Mar 02, 2005 9:37 am
Location: SF Peninsula
My condolences Debra. Write a little memorial on the special events, birthdays, anniversary section. Just like I did for our Lao. It will make you feel better to share the joy Bear gave you. At least Bear was with you and your husband and you were able to share these few months together. I know the others on this site will also offer you their sympathies and love. We all love to hear how our chows brought joy and mischief to our lives. So think about writing a little memorial on that section.
---