Moderator: chowadmin
Rank 0

Posts: 63
Joined: Sun Jun 19, 2005 9:26 am
Location: Minnesota
Contact:
In Missouri any dogs pulled from shelters must be altered before leaving the state. Often this means a freshly spayed female must endure 8 or more hrs of travel the day after she is spayed.
I would like to find a foster home in the general Kansas City region or anywhere in northwest Missouri for occasional temporary fostering of chows being pulled from Missouri kill shelters. It won't be often there will be a need for chow fostering and usually the stay will be a week while transport fills, but if someone enjoys fostering many other breed rescues have a need in that area also.
There is an application and home visit that will be done much like for an adoption. There is a friendly female right now in Lee's Summit Animal Control that may need fostering this coming weekend until Jan 12.
Please contact me if you are interested.
Deanna
Katann Chow Rescue
Luverne MN
katannchow@mchsi.com
---
Rank 3

Posts: 2091
Joined: Sun Oct 28, 2007 2:36 pm
What a wonderful idea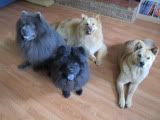 ---
---
Return to "Chow Chow Rescue Groups"
Who is online
Users browsing this forum: No registered users and 1 guest