Moderator: chowadmin
I love Chows, and i would love to help all the Chows you have listed, but i do not have means or the time off from work to make the trips to get them. Is there anything in Florida?.
---
Rank 3

Posts: 3030
Joined: Tue Oct 31, 2006 8:20 am
Location: Toronto, Canada
Here are a few chows and chow mixes Orlando and area, all looking for a forever home, I now own my second rescue, and all are happy.Karin
http://search.petfinder.com/search/sear ... 1&x=6&y=17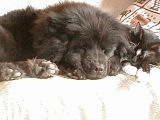 Mikki
---
Rank 1

Posts: 303
Joined: Wed Sep 13, 2006 4:47 pm
How are you looking to help out chows? Would you be interested in being a foster home? rescue transports? I may be able to point you towards a chow-friendly rescue that is looking for fosters.

There is a chow friendly rescue a little farther out always looking for foster homes.
---
Rank 1

Posts: 303
Joined: Wed Sep 13, 2006 4:47 pm
There is actually a purebred (or looks to be) red female in a shelter probably an hour and a half from you right now.

If you have means to take a not too far road trip, send me a note
---
---
Return to "Chow Chow Rescue Groups"
Who is online
Users browsing this forum: No registered users and 1 guest