Moderator: chowadmin
Rank 1

Posts: 282
Joined: Sat Feb 24, 2007 7:51 am
Location: fishers, in
OK, I'm embarrassed to bring this up, but does anyone else out there have a chow that licks things? Not themselves, but things?

Tempest will stand and lick the banister on the stairs, she'll walk up to the wall and start licking, she'll lick a chair leg, she doesn't care, she'll lick just about anything that doesn't move! And, she'll stand there and do it FOREVER if you don't say something to her and make her stop. I jokingly told the woman from whom we got her (a highly respected breeder and show-er) that "Well, you certainly don't breed for brains!" Just joking, we love you, Tempest!!!!!
---
Jack licks EVERYTHING non stop... our bed has a jack lick spot on it all the time he sits there and just licks and licks and licks, then goes for your arms and just wont stop. its like he needs to do it or he gets fussy, he's weird, but we love him

---
Rank 1

Posts: 161
Joined: Sun Sep 30, 2007 6:53 pm
Location: Austin, TX
Pudding does this too, she'll lay there and start licking the hardwood floor!

When she's allowed on our bed she'll sometimes start licking the comforter. She'll stop if we tell her to, so we're not too worried about it being OCD, maybe she's trying to contribute to cleaning the house or something... Dennis and I just consider it one of her quirks
---
Rank 1

Posts: 141
Joined: Mon Jan 07, 2008 8:53 am
Location: SC
I have a golden retriever who does this too... he will sleep on the foot of the bed and lick the sheets.. he stops when i tell him to.. but he licks the carpet, blankets, his legs, my hands.. anything and everything he can.

And i have senior cocker that has severe seperation anxiety and he will lick the glass storm door and whine until i come in...he has actually licked the paint off the bottom of my front door because i made the mistake of leaving him out once while i ran to the store and was gone 10 mins... he is now crated whenever i leave the house.. which i hate because hes so good otherwise..
---
---
---
Rank 3

Posts: 2091
Joined: Sun Oct 28, 2007 2:36 pm
sbean wrote:When Yogi was younger he'd lick himself all the time and when he got bored he started to lick his toys. Luckily he grew out of that phase after he pooped in his training crate and licked that.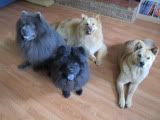 ---
Rank 3

Posts: 1580
Joined: Mon Sep 24, 2007 12:26 am
Location: Rockford, IL
Cinder has always licked the kitchen floor. I think it started with crumbs, but she now feels the entire kitchen requires licking. I just shoo her out of the kitchen as the only way to stop her in the kitchen is to feed her. (Maybe she is trying to train me!)
Jerilyn

Banner courtesy of the amazing Sweetpea.
Until there are none, adopt one!
http://www.dogster.com/dogs/631376
http://www.dogster.com/dogs/650868
---
we always said Nanook was the cutest not the smartest one from the litter. He is our little glass licker. He will lay in front of the glass sliding door and just lick it. He'll lick then stop with his mouth wide open like he is a lion then he goes back to licking. I have noticed Jade will lick the coffee table legs and the bannister's sometimes. If she is laying next to the table she'll just lift her head lick the leg and then go back to sleep. She is always licking the kitchen floor. At least twice a day you will hear "jade stop licking the floor" They are strange but they make us laugh everyday

---
Quite old post and love the naughty things by pets. BTW my daizy tore all my new coverlets and it was my favorite brand. Now I am thinking what to do? buy a new bed for her or new coverlet but I am afraid she will tore it again! Any idea?
---