Moderator: chowadmin
Rank 0

Posts: 68
Joined: Wed May 02, 2007 10:24 am
He's very handsome! Dandelion wouldn't survive a young playmate. He'd run her ragged but I will spread the word and link the post to anyone who would be a good fit for him. I don't know how bad off he is but I would be happy to share any info I can about Dandelion's health issues associated with the embedded collar and how easy it is to care for. Some of Dandy's problem are noted in earlier post. Not all dogs have that severe a problem though. I'll spread the word about Lucky.
---
Thanks for your help. He is a couple of hours from me but I would be happy to pull him and stick him on a plane or drive a transport leg or whatever I can do to help if anyone wants him.
Chloe (left) Shuggy (right)
---
Moderator

Posts: 4594
Joined: Fri May 19, 2006 10:01 am
Location: Ingleside, Illinois
Contact:
Oh man, just look at her.

I often think about Dandy... and wonder how she is doing. This is one of the stories that just stuck with me. Im so happy for her and for you!

---
I noticed that Officer Pentangelo was the ASPCA spokesman on this case... if I remember correctly (and that in itself would be a miracle), he owns a black (rescue?) chow named "Pickles". That sort of brings things full circle, chow-wise. Can't believe Mr. Joudan got off scot free, but I'll put him on my list of

things

to take care of when I get to be queen.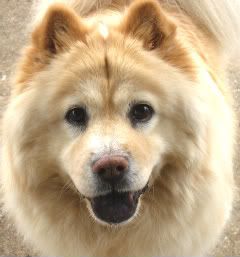 Sandy
Owned by Sophie
---
Moderator

Posts: 7575
Joined: Tue Oct 25, 2005 3:49 am
Location: Muskegon, Michigan
Contact:
I believe you are correct about the ASPCA guy, Sandy. He was featured when he adopted a his second Neopolitan...it showed the happy ending of his 3 adoptees- including the black Chow, in their backyard. the Chow was a dwarf by comparison.
http://vimeo.com/12895512
---
---
Return to "General Discussions"
Who is online
Users browsing this forum: Bing [Bot] and 25 guests