Moderator: chowadmin
Hi All!
On sunday we brought the beautiful Ceyanne into our home. She is just the sweetest little girl. She is very shy but it finally starting to warm up to me. She seems to really like my husband and "tolerates" Chewie so far. She is a goreous red girl of 5 yrs and loves cheese! She snapped at Chewie a bunch of times because he was pestering her to play over and over again. Chewie has never been around a dog that didn't want to run and play so he wasn't quite sure what was going on. (his best friends are a boxer named Mia and 2 dobermans) The first time she snapped him he just looked at me like "what was that?" and then ran right back over to her to get snapped at again. On the second day, he had bugged her about 5 times in s a row and we knew what was coming so we kept a close eye on them. She finally lunged at him, gave a little scratch on his side before we were able to intervene. All it took was a no and they both sat down. Chewie looked at me with those sad eyes as if to say "how could you bring home someone that won't play with me?" It broke my heart to let this happen but we knew it had to be that way. Since then they follow each other around, run around outside and she now lets him lick her eyes and sniff her. He has finally figured out that at least for now, she isn't ready to play and if he wants to play he needs to come over to us. The heirarchy has been established! We are very excited to have her in our family and can't wait to show her off when she is more comfortable.
Hugs to all
Mandy, Chewie, & Ceyanne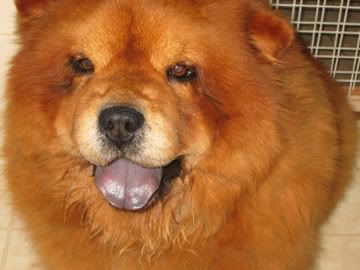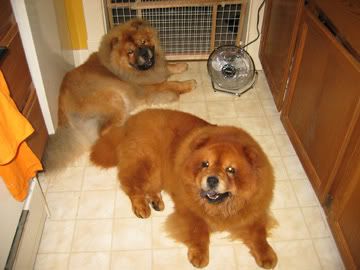 she has the cutest little butt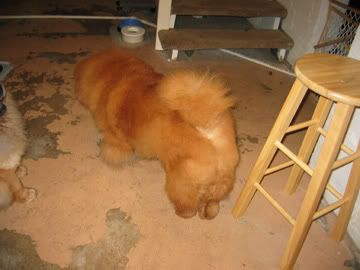 look at chewie smiling!
they posed themselves here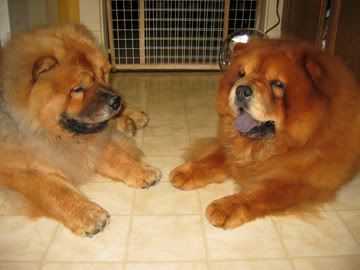 this was Chewie after she nipped him. poor baby!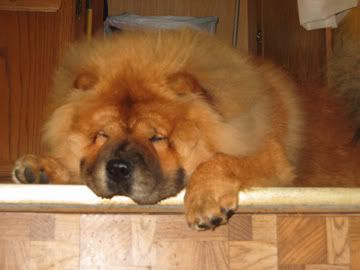 ---
Rank 4

Posts: 6320
Joined: Wed Mar 02, 2005 9:49 am
Location: Cheshire, On The Island.(But always wishing she was back home in Wales)
They are just so beautiful Mandy - what lovely colours.
Poor little Chewie - life is so hard - in fact, as our priest used to say, "Life is a bitch!!!!!!!!!!!!!!!!!!!!!"

(Thank you Sweetpea for my new banner.)
---
---
She is a beauty in as much as Chewie is quite handsome!! Sounds like Ceyanne and Chewie will work out the "top dog" issue. You might see a few scuffles now and again but they will eventually figure it out. Zhuyo and Pooh Bear has some initial disagreement but as you can see from Zhuyo's birthday pictures from yesterday they are true brother and sister!
Mr. N was a puppy when he joined our family so there wasn't any confrontations until he got older. Other than his food agression - which we try to make sure the situations are minimized, they are true brother and sister, too. We love to watch them interact and communicate with each other.
Congrats! - we know you'll be so very happy having two

Karen
---
---
---
Return to "General Discussions"
Who is online
Users browsing this forum: No registered users and 3 guests