Moderator: chowadmin
Conner, if you look at the photo of my Pippy at the bottom of this post, you will see she is a lab/chow mix. She actually looks like a Flat Coated Retiever. She acts like a lab, but I love her anyway. I will say this to you about your new puppy- while breed type has a big influence on a dog's behavior, each animal is going to be guided in the end by innate personality, coupled with the method the owner uses to train (or not) said animal. Not all labs are sweet and loving. When I met my husband, he had a chowdor as well, and not only was he a total chow personality-aloof and protective, but he was also aggressive, not a chow trait- a Bear (his name) trait. It is rather irksome to see people put blanket proclamations about breeds because they knew 'one' that was a certain way. This is why some seem bothered by your breed prejudice.
http://vimeo.com/12895512
---
Conner - I have both an older chow-lab mix (12 yr. old female) and a younger chow-golden mix (3 yr. old male). It is very difficult to say what type of personality your dog will have. I believe if I did not socialize, spend time with and did not have a confident attitude with them - they would have turned out to be like the horror stories you have heard about chows (and other dominant breeds). Even if you take the time and do all the work with your dog, will they turn out like a "stereotypical" lab. That is very unlikely. My chow-lab girl (Nala) was an aloof dog - very independent, very low maintenance but friendly enough to take off leash, to meet other dogs (not critters), and to listen to commands. When she was younger and in better shape she would leave my side for 15-20 minutes at a time and I would whistle once or twice, and she'd be by my side in 2-3 minutes. She will rarely ever lick (kiss you) and once in a blue moon on the face. She will greet others nicely but briefly (unless she really likes you). She is the smartest dog I have ever know (I'm biased) and she will not take any *Censored Word* - from either an aggressive dog or mean person - she took down a dobie twice her size protecting my daughter's westie (held it by it's upper and lower jaw pulling the face down to the ground till the owner came over and she finally let go - the dobie was fine except for his pride). We also battled because they are the most stubborn dogs in the world (she never bit me and I'll just say it wasn't pretty but she never crossed me again). She's slowly fading and it breaks my heart - she is as dear to me as my daughters.
My male chow-golden has a totally different personality - he is the happiest, fun lovingest character. He is very loving to all family members (and may others) - you can pet, touch play do just about anything with him and he won't retaliate (This is with family, small children and most small dogs). Don't get me wrong, he also has some very distinct chow characteristics. He will not let you walk through our house upon your first meeting without petting him first - it is your right of passage to see if you're worthy. He has an alpha personality so he does not back down unless there is a reason or it's not worth it to him. He could care less what people think of him and does not try to please unless it's in his interest. He has been socialized since he was 8 weeks old in public, the neighborhood, parks and woods where he's always off leash and he's met all kinds of people and dogs - joggers, bikers, families, kids etc. He will meet most people on the path (unless I call him away) and will even let them pet him - however when they pet him he acts like he's doing them a favor and that it's a great privilege for them to be able to pet his beautiful coat. He will stay away from those few people who give him a bad vibe (dogs or at least chows can sense this much better than we can). If a stranger calls him over in a baby-like, puppy dog cute tone he will most likely snub them. If a stranger ignores him, he will most likely go over to greet them. He has also met hundreds to thousands of dogs and has had just about every possible situation come upon him. He was attacked by a pit and a rottie (although he's also met some nice pits and rotties) as well as other dogs, mostly smaller ones. He will never start a fight but he will also not back down from one if there's no choice. On rare occasions he's been backed into a situation where he can't get away from an aggressive dog - and that's when he changes. His whole face transforms from a half chow half golden to a chow from hell (picture the movies where a man turns into a werewolf and your halfway there). His whole face, skin and fur wrinkle back till all you see are black gums and knashing fangs and teeth, his fur on his back stands up several inches, his growl and bark sound like a demon dog as he lurches and lunges over the aggressive dog and backs them up till they can go no further but he never bites and never allows himself to get bitten. The other dogs have always stopped their attack. He then goes about what he was doing before he was rudely interrupted and acts like nothing happened. He does not approach other dogs like a dog, but like a chow. He stands regal and dominant with his tail curled up over his back, head held high, proud look on his face and a stern stare in his eyes which seem to ask, "Friend or Foe?". He walks up to them with a steady, even gait, head slightly higher than the other dog and then decides if he wants to play or move on. He will play with over half the dogs (if they are also playful), he will chase males and he lets females chase him and when he is comfortable will wrestle with them, applying slightly more force than the other dog (play with Ty has never turned into a fight). He will protect anyone who he thinks is family or friend and has saved my daughter's westie several times by jumping in the middle the few times the westie started up with another dog- he will also stop the westie in her tracks almost like a border collie herding if he thinks she is going after a dog. He has a female dog he walks with almost daily (his girlfriend) and one time this huge, mean looking mangy black shepard (he looks like a huge black wolf caught in the rain but is actually a nice dog) gave a little growl at his girlfriend when he jumped in between them and looked the shepard straight in the eyes and gave a little growl back.
Most of all though, Ty is my best friend, loves my wife and daughters, and anyone he's grown to trust and has been a joy to many people and other dogs around him. He will fetch a stick, but won't return it (he wants you or another dog to chase him for the stick). He at times goes wherever he wants to but also always returns. He reminds sometimes of a wild canine with social skills - and I let him be because I never want to break his strong spirit.
Conner - I can tell you that you almost certainly will not have a "stereotypical" lab but if you have the patience, the time and the stomach your chow-lab will exceed your greatest expectations and you will have a best friend that will lay down their life for you.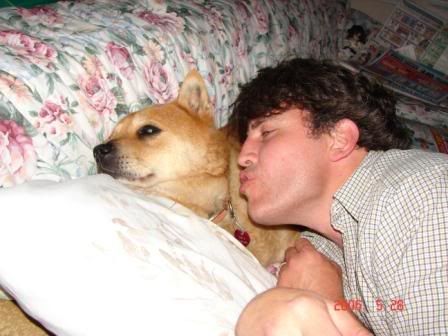 Nala holding out on the love.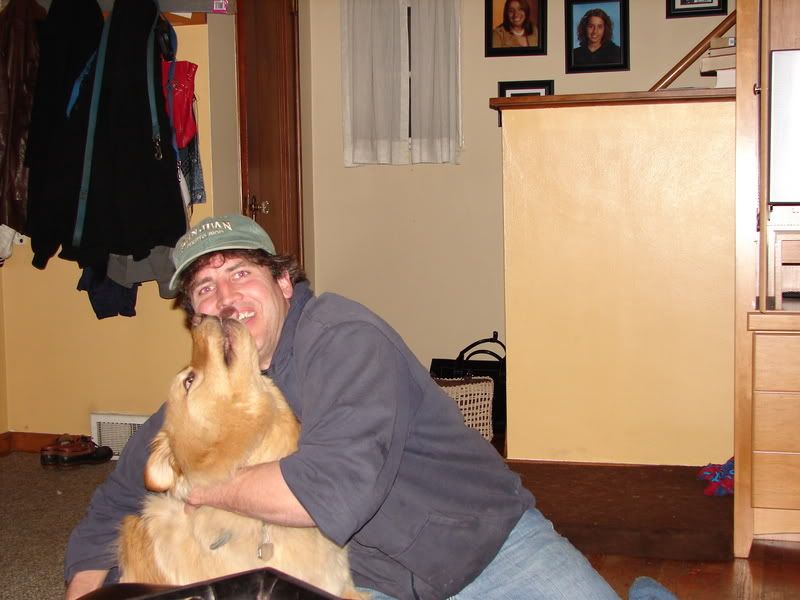 Ty dishing out the love.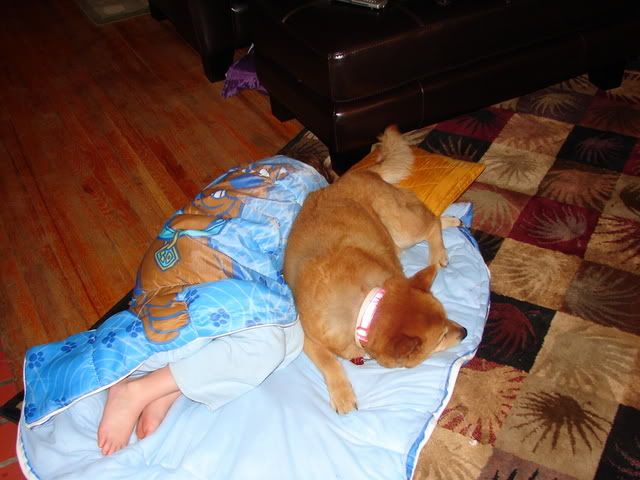 Nala and my niece comfort each other.
Ty saying - Come fetch the stick from my mouth.
Last edited by
jerseyp
on Fri Feb 16, 2007 10:28 pm, edited 2 times in total.
---
Moderator

Posts: 4594
Joined: Fri May 19, 2006 10:01 am
Location: Ingleside, Illinois
Contact:
jerseyp AWSOME POST...and I love the pictures.


---
Rank 0

Posts: 2
Joined: Wed Dec 14, 2016 7:53 pm
Just got an 8 month old yellow lab chow mix and I couldn't love her more! She came from a difficult home which has meant more socialization with dogs and people (emphasis on introductions in neutral spaces.) So far she has displayed personality traits from both breeds; when she is nervous or uncertain she has the alert, guarded behaviour of the chow but when she is confident and secure she has the outgoing, lovey lab personality. What I have found to be most helpful with her training is being clear and firm while using positive, reassuring reinforcement (very treat oriented!). Being a confident handler has made the difference. New outings and new experiences can be uncomfortable, so be aware of how she is feeling and take control of a situation if she is unsure. Instead of her previous assertive and scared behaviour her new go to is "go to mom." Make yourself their safe space and you will be rewarded with an incredibly intelligent, attentive, doting companion. All the guarding instinct, all the trust, and all the love.They required positive patience, active engagement and an assertive puppy parent. This mix is the best example of "only as good as the owner" you could ever find. I could not be more pleased with this dog and that comes from someone not overly fond of chows or labs.
---
Rank 1

Posts: 243
Joined: Wed Jun 19, 2013 6:19 am
There are so many possible reasons that Chow you personally know attacked another dog and it's owner. It could have sensed a threat or maybe your friend did not socialize him/her enough. With dogs you never know what you are going to get.
My 100% Chow is a submissive. Reading sweetpea's post makes me smile. When we have guests over she grabs her stuffed toys or blanket to show them. She cuddles up to the plumber and the mailman loves her. Please do not judge your rescue dog because of one's bad experience. You have all the power to mold your baby and give him/her a good happy life. SOCIALIZE your baby. Let friends and family carry her and make sure all it's human interactions are positive. Supervise visits so no one hurts or taunts. Provide enough walking and play time to burn off puppy energy. The teething ordeal lasted me 4 months of play biting with scratches on my arms and legs. Chow's are stubborn. they will play dumb or deaf when they do not like the command. but be perfect angels with the promise of a toy or treat.
PLEASE do not punish him/her for another's experience. Do not generalize: It's like saying all white men are racist or black men crooks
---
Honestly, everything here depends on your own attitude and how you're gonna treat your pupper. Remember - love and discipline! :3 And you'll both be fine!
Regards,
Mark -
research paper writing service
---