Moderator: chowadmin
My mom adopted a new 3 year old male chow lucky. He was an outdoor dog but they said they would take him inside time to time. We want an indoor dog, we brought him inside and he started marking his territory all over the house. How can we train him not to? Any tips?


Sent from my iPhone using Tapatalk
---
Rank 1

Posts: 329
Joined: Sat May 30, 2009 4:29 am
Location: Orleans, Ontario, Canada
For one, thats not territorial unless another animal is present. It's dominance. Try to get the chow's sent in the areas where peeing is happening.
Is this when your around? Spray bottle might work. With a good 'no' in a stern voice and a quick trip outside.
Is this when your away? Harder. Try confining to a room (bathroom) or a large cage so he has room.
Are you walking him properly first thing before leaving? If not, try it.
Are you gone a long time? This is also hard to resolve.
Any chance you can leave a patio door open with an L shaped slit in the screen so he can go in and out. We have used this setup for years in spring/summer/fall to give the furkids freedom when we are away.

You want an indoor dog, fine, takes work, exercise will help calm him.
---
It sounds like the dog has never been toilet trained before. Your mom could consider doing some crate training with the dog? Just google crate training and there are tons of guidelines out there. Could also help the dog to settle better in the new home.
Max, Ritz, Shelly & Hunter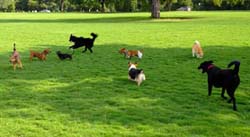 ---