Moderator: chowadmin
Rank 1

Posts: 124
Joined: Tue Apr 14, 2015 2:04 pm
That makes sense. I would assume that if I leave the leash on Walter though, he will start on biting and eventually destroy it (which he did on his first few leashes when he was a little puppy). Now if you step on the leash, will he still not be able to nip the back of your feet? He still can reach it, right?
---
Rank 1

Posts: 124
Joined: Tue Apr 14, 2015 2:04 pm
I still don't understand Walter. As long he sees a female dog, he really tries hump her even though she is not in heat. He tries to get over her and do the thing. I thought male dogs would only be in heat if the female dog is in heat also.
---
Rank 1

Posts: 124
Joined: Tue Apr 14, 2015 2:04 pm
Walter will be a year old this December 26 and I'm still having problems with play biting. The scenario's the same, he does it when he wants attention (say he wants to go outside to take a pee) and when he wants to play with you. The good thing is there is "inhibition" involved as he reverts to just licking when you say "ouch" in a calm loud voice. He only does this to people that he lives with (so family members and people that he always sees frequently). We get scratches all the time especially in the ankle area! Any tips to teach him not to do this?
---
I remember this thread and it's been 10 months and wonder how Walter is doing. I hope he's doing much better and would love an update. It's easy to give advise about puppy issues then it's to solve them. Our Spartacus just turned 1 year old and is a puller too. He is getting better only because we have been working on it every day. Puppies can be a hand full and I'm hoping Walter is behaving now.

612
---
Rank 1

Posts: 124
Joined: Tue Apr 14, 2015 2:04 pm
Thanks for the follow-up, I appreciate it. He's close to 2 years old now and he's getting better. I don't have any problems with play biting anymore but he's really a stubborn puller. I already tried using the front-attaching harness and I can control him better with it but then again when you switch him back to a regular collar he starts to pull like crazy. I honestly think it's my fault though because I'm not working on training him to not pull as I'm having a hard time doing so (because of my work schedule and other stuff). Let me know if you have any other suggestions in trying to solve this pulling problem though. This is the only thing that I'm having problem with as of the moment.
---
A quick tip that I use with pullers is to anticipate the pull and abruptly change directions, saying "TURN!". We have had walks that we spent quite a bit of time going in circles as I was constantly changing direction. A couple times out and they get the idea and watch me, sticking by much closer
CH Dreamland's Intrepid Spirit ~ Chance
Dreamland's Dancing in the Storm ~ Raine
Dreamland's Calling All Angels ~ Skye
---
Rank 1

Posts: 124
Joined: Tue Apr 14, 2015 2:04 pm
I'm actually doing that all the time but I'm not sure if Walter gets the idea. He only stops pulling when he's tired already and of course that's a natural reaction from anyone.
---
What I have done is switch the leash/collar to a 6 foot rope slip collar. Just make sure it on right so it releases after tension is applied. This is the only thing I have used on Spartacus for the last 3 months.
The next thing I learned showing chows is to position the collar part as close to the head as possible. So right behind the ears and closest to the jaw as possible. If you position it just above the shoulders like the collar normally is, the dog can pull a lot harder. I took a picture and it might help. You can get it even closer to the ears but this is the picture I had.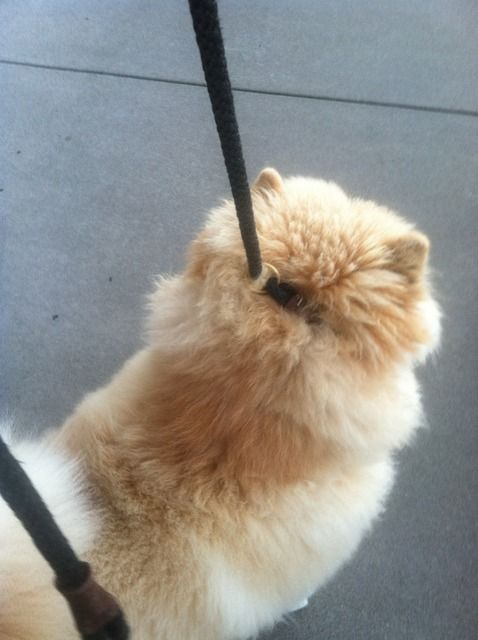 This is way too low on the neck.
The shorter rope you give Walter the more control you will have. I'm not saying you can't give him some rope if he has to go potty but most of the time he should be on your left side. I also found out walking in a circle with Spartacus in the middle helps teaches him to look at me and not too go to far ahead. Sometimes I'll go in a circle 10 times and he gets better each time.
Hope this helps,
612
---
Rank 1

Posts: 124
Joined: Tue Apr 14, 2015 2:04 pm
Great. The only reason I don't use a "choker" type of leash is because I read in this very forum not to use one as it does not promote positive reinforcement. So I'm not sure how that argument would go about presenting itself in what you just said. Regarding your rope/leash being close to the ears, wouldn't that just slip off back to the neck area when Spartacus tries to pull even just a little?
---
You may have to adjust it but not as much as you would think. Just keep a little tension on the rope so there's no slack. But when Spartacus pulls the rope it doesn't slip and he can't pull as hard. Spartacus is over 70lbs and the strongest chow we have had and this works well. Before my wife had a very hard time with him on a leash. Now he is much better.

612
---
Rank 1

Posts: 124
Joined: Tue Apr 14, 2015 2:04 pm
That's good to know, I'll give that a try. Walter is just about 35lbs (I know, he's a bit light for a Chow but I can't do anything about it

) so he should be more manageable than Spartacus.
---
Rank 1

Posts: 326
Joined: Sat May 30, 2009 4:29 am
Location: Orleans, Ontario, Canada
Yeah Walter!! Your welcome to visit The FuShiLu and ShenLung anytime buddy, they'll get you straight on any lingering kinks.
---
---
Return to "General Discussions"
Who is online
Users browsing this forum: Patriotqwr and 17 guests