Moderator: chowadmin
Yesterday we adopted a chow x golden from the SPCA. We have named her Gracie. The name they had given her was Vermont and that just didn't seem to fit.
She was a tad bit timid with Chance at first, but has already opened up. She lived in an apartment her first 14 months of life and never had off leash time in a yard before. Her first time in our yard was priceless. She quickly went potty, then sniffed around... then rolled on her back with the cutest grin on her face.
Introducing ~~~~~~ (that is a drum roll)
Gracie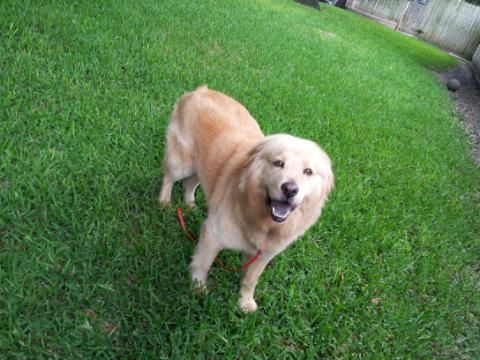 (picture taken yesterday when she first stepped into the yard)
The SPCA had to shave a lot of her coat off because of matting, but they were able to leave about an inch of fur in most places. She is a tad bit overweight... but we already began walks and she loved checking out the neighborhood. She knows "sit" and will offer a paw when asked to "shake"
It is hard to believe someone surrendered her.... BUT, we are so happy that she is now in our home! Today is less than 24 hours and she has her tail up!
CH Dreamland's Intrepid Spirit ~ Chance
Dreamland's Dancing in the Storm ~ Raine
Dreamland's Calling All Angels ~ Skye
---
What a very pretty girl Gracie is. Love the name it suits her so well.

---
She's beautiful. Congratulations!
---
Congrats! She is beautiful and love the name

Karen, Kohana, Takoda, and our Chow Angels Nahkohe and Shiloh
---
Awwww she is beautiful! Congrats!
Chloe (left) Shuggy (right)
---
Congratulations on the new addition! She is beautiful!

Laura
Attachments

Micah B&W.jpg (28.94 KiB) Viewed 2613 times
---
Rank 0

Posts: 66
Joined: Mon Apr 28, 2014 1:34 pm
she is very cute! Congrats!
---
I wish U all the best:) Wonderfull dogs:)
---
---
Return to "General Discussions"
Who is online
Users browsing this forum: No registered users and 13 guests