Moderator: chowadmin
Today a mobile grooming parlour came to do my chow. After specifically requesting that they trim and groom him neatly they shaved him completely so that you can see his skin. He is 8 Months old. I know fully of the dangers of shaving dogs with a double coat. Will he be fine?? Will his coat grow back to how it was before??
---
It should grow back fine in time. Depending on where you live, it is shedding time so it may take longer. There may be some itching/razor burn and or change in behavior (scratching, licking, just feeling weird) and don't let him get sunburned.
This is why I hand picked my groomer and made it very clear from day one that she is only allowed to bathe, blowdry, and clip nails. The only time scissors are allowed are for the little random hairs that grow out of Shuggy's feet. Chows have a beautifully shaped coat and I never understood why people cut it but plenty of people do and groomers like to shear them like sheep!
Anywho....it will be ok in time.
Chloe (left) Shuggy (right)
---
Thank you for your response. Is there anything I can do to make sure that his coat grows back as nice as it was before? Or even possibly accelerate the growth?
---
Not that I know of. My Chloe had surgery a couple of years ago in the spring and they had to shave her hip/leg. It took a long time to grow back but it grew back perfectly. It seems like it took about 6+ months?? You most likely had puppy coat shaved so I wouldn't think regrowth would be an issue over time. Hopefully someone else on here can provide more info/experience. There have been several cases of over enthusiastic groomers.
Chloe (left) Shuggy (right)
---
Rank 3

Posts: 1708
Joined: Sat Nov 05, 2011 6:48 am
Location: Mansfield, MA USA
Best advice I could give would be to brush repeatedly. Sounds counter-intuitive I know if he has little fur, but you want to stimulate the skin and the fur pores. Consider a bristle brush, which you wouldn't normally need for a chow, but in his current state it will be gentle while still getting the skin moving.

Take it as a bonding time. And remain positive. The fur will grow back in time. Others are right...at 8 months he was going to transition to adult fur and go through a seasonal coat blow anyway, so it could be worse.

Like Laura said, be very specific with groomers. I do the same. Wash, shampoo, rinse, condition, dry. Trim and shape PAW fur only. Don't even touch any ear mats unless you call me 1st. Use a rake on ONLY the rear area. I trim the dogs nails myself with a dremel, so don't go near them with a clipper. Their black nails are going to bleed (lots) if you clip them, so DONT. Do brush their teeth, because that's just a pain in the butt.

Oh, and don't put any bows on the male dogs. It's just undignified and totally unnecessary. And one more instruction, don't EVER muzzle my dog because he's a Chow. If you aren't able to handle him, put him in the drying crate, admit failure, and call me. I will be there in 15 minutes and find someone who is not intimidated by the dog because they are afraid of the breed.
---
Rank 1

Posts: 164
Joined: Fri Jan 16, 2009 9:36 am
Location: Athens,Ga
My main complaint about having Maggie bathed by groomers is that 90% of the time you cannot see what's going on.
I'm still trying to find a place that I can witness her being bathed. One main problem i have solved is I walk my Maggie everyday and I have never had to cut her nails. It's getting bath time again and I realize how much work it is to bathe her at home, bending over the tub at 75 yrs old kills my back.
---
It will grow back fine I had to shave a couple of knots behind my chows neck was worried it would grow back Growing back perfect and it's only been a month Make sure your dog is on a good food I have great results with blu buffalo
---
Who did it like this? It wasn't very responsible...
---
Unless he has some sort of thyroid issue (probably not likely so young) it will probably grow back. However, the wooly undercoat does tend to grow in first, followed by the outer coat. So he may look a bit strange for awhile. When my male was neutered, his forelegs were shaved for the catheter. He looked silly for months with his little nekkid squares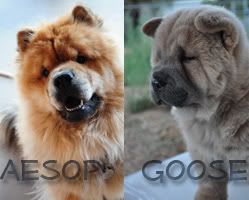 ---
---
Return to "General Discussions"
Who is online
Users browsing this forum: No registered users and 2 guests