Moderator: chowadmin
Rank 3

Posts: 1010
Joined: Fri Feb 17, 2006 8:04 am
Location: Alaska
Just finally uploaded a few recent photos. Thought you might enjoy them!

Khana and her first place ribbons from the last show:

<img src="http://www.kippsdogs.com/khanaribbons1b.jpg">

The three chow girls on the back deck, with a moose grazing nearby - all had barked initially, but at this point only Khana is even paying any attention.

<img src="http://www.kippsdogs.com/chowsmoose.jpg">

Khana playing with Zeus at the shows - she was really telling him off because he kept trying to mount her .. *L*

<img src="http://www.kippsdogs.com/khanazeus.jpg">

Melanie and the gang in Alaska
---
Rank 2

Posts: 958
Joined: Fri Jun 09, 2006 10:34 am
Location: WA
Contact:
Awww, how sweet!! I love the last one because you can see she has had ENOUGH and his face is just adorable, I can just see him saying "aww, c'mon, just a little" LOL

I absolutely love your dogs.
---
Rank 1

Posts: 454
Joined: Tue Jul 18, 2006 3:26 pm
Location: Atlanta, GA
Congrats Khana...
What an awesome photo of the 3 & the moose
Momma Chow Celeste to Gorman, Onyx & Irish
---
---
Rank 1

Posts: 100
Joined: Fri Jun 23, 2006 4:00 pm
Location: Northwest Indiana
Those pictures were great. I can't imagine having a moose in my backyard, I'm thrilled when I see a chipmunk! I do love their faces in the third one "enough is enough". And, congrats to Khana who looks pretty proud of herself as she should be!
---
---
---
Rank 3

Posts: 1010
Joined: Fri Feb 17, 2006 8:04 am
Location: Alaska
Thanks, everyone! I do enjoy taking photos, and my digital camera makes it TOO easy.

PurpleKisses - Zeus definitely wanted a "little" .. *LOL* .. he had one thing on his mind, and Khana finally got a bit pissed off because he was so persistent. I let her tell him to back off too - he needs to hear it from her. It's good for her to have to deal with another overbearing dog once in awhile too (since she's usually the pushy one).

On the moose photo - that same moose came back later that night (this was two nights ago) and it came back again tonight, grazing around the place. I think that it has discovered that it's pretty safe from predators here as the wolves and bears don't tend to come in that close to people's homes much. I've had cows raise their babies out here before - really neat to watch them grow up!

Jeff - I feel for everyone down south dealing with that heat! That's just awful. We are having a cool summer, nothing like the last two which were hotter than normal. Daytime temps are in the 60's for the most part.

Sylvia - thanks for the compliment on Khana. I wish I could take credit for her looks! *L* She definitely takes after her parents, you can see both in her. I lucked out there because I was going for brains and athletic ability and it just happened to come in a cute package too.

Melanie and the gang
---
Moderator

Posts: 4594
Joined: Fri May 19, 2006 10:01 am
Location: Ingleside, Illinois
Contact:
I love those pics...

I want a back yard like that dangit...


---
Rank 1

Posts: 437
Joined: Tue May 03, 2005 8:59 pm
Location: Nevada
Contact:
Absolutly beautiful, your chows and where you live. Looks like a photographers paradise! I nver can get enough and looking at your lovely pictures.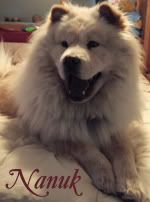 ___________________________
Christine & Nanuk
---
Rank 3

Posts: 4327
Joined: Tue Mar 21, 2006 7:47 am
Location: Maryland
Those are great pics! Khana always looks so mystical!! She's gorgeous!! All you girls are just so huggable!! I love the picture with all three of them, Kylee and Dora both just look like they're so over the moose and I love the classic alert stance of Khana's back legs. Whenever Special gets that way, I know there's somthing oh so good out there!
---
Rank 2

Posts: 764
Joined: Tue Mar 29, 2005 8:04 am
Beautiful dogs and view!
---
---
---
Return to "General Discussions"
Who is online
Users browsing this forum: No registered users and 15 guests