Moderator: chowadmin
My two Chows are notorious for laying in the doorway. Try and move them, better just step over. Zeena is jet black and she'll lay in our bedroom doorway and rots of ruck not stepping on her since you can't see her in the dark. I have to shuffle my feet to find her sometimes. Since they were bred to be a guard dog too, I think it's a natural thing for them to do this. GUARD THE DOOR.

Gene.
Gene
---
Rank 3

Posts: 3658
Joined: Thu Mar 03, 2005 7:03 am
Location: North Chesterfield, (Right outside Richmond) Virginia
Contact:
Yes it is guarding behavior, but they should still get up and move out of the way when you want to enter or exit, because it is also dominant behavior. Mine may lay there, but if I get up or approach they know that they have to get up and move.
Victory, Darkwind, (our angel), Firesong, and Dreamdancer

Thank you SweetPea!
---
Brambles thing is to lie in front of what ever cupboard I am going to need into next or the fridge, to the point I feel guilty for moving her the twelth time when I am cooking. She is very good natured about it but she continually has to move round the kitchen.

---
Rank 1

Posts: 131
Joined: Mon Mar 23, 2009 12:19 pm
Location: San Jose, Ca.
Both of mine lay in the doorway also. I make them get up and move as well. Louie has to be where ever I am so the kitchen used to be a problem. Now he lays smack dab in the middle of the kitchen so I "dance" around him when I am cooking and never step on him and he does not have to get up and move when I open cabinets or fridge or oven. My husband is not used to it so if we are all three in the kitchen my husband nearly kills himself tripping over him

.
Mailie ...............................................................................................................................Louie
Thanks sweetpea!
---
Rank 1

Posts: 164
Joined: Fri Jan 16, 2009 9:36 am
Location: Athens,Ga
All so true but not only doorways but spread accross the narrow hallway. I had to put night lights up so I dont trip over her. How about with a full cup of coffee and she decides to get up just as you step over her. My right leg has gotten bigger trying to slide her away from the dbl door refrigerator cause she thinks all her neat treats are in there. They are.
---
I have banned all animals, furry and husband, from the kitchen when I'm cooking. I have cut my mom's fingers three times whenever she tries to help me cook so I don't let anyone in the kitchen anymore.
Hugs from Dargo and Denny!
---
Moderator

Posts: 7575
Joined: Tue Oct 25, 2005 3:49 am
Location: Muskegon, Michigan
Contact:
Mine lay in pathways as well. Lily has staked the claim of the kitchen/livingroom doorway. It is right by their food and water. Also, she likes to lay in the upstairs hallway and dangle her head and legs into the stairwell. She can see anyone coming from that vantage point.
http://vimeo.com/12895512
---
Definitely a chowy thing

Kodi has to know where we are in the house at all times, so if we're at opposite ends, she finds the closest, viewable intersection to lay down. And she's definitely a speed bump, always has been. We just step over her now. She has arthritis so we allow this, BUT if it's critical she move, we just say Move! and she gets up and moves.
Gotta love 'em!
Cindy & Kodi
I Wanna Go Chase Something!!!!!
Compliments of SWEETPEA - Banner Artiste Extraordinaire
Dogster page:
http://www.dogster.com/pet_page.php?j=t&i=36558
---
Rank 1

Posts: 179
Joined: Mon Mar 16, 2009 10:30 am
Location: Michigan
Yup it is lol Lobis Cunami makes sure to always lay in the door way from the kitchen to the dining room.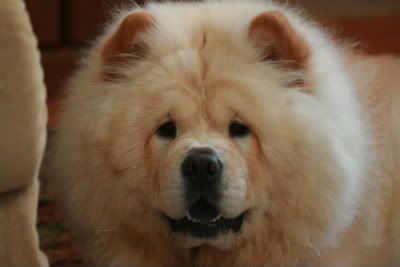 ***** Lobis Cunami *****
---
Rank 3

Posts: 3123
Joined: Tue Oct 03, 2006 7:28 am
Location: McDonough, GA
Contact:
Deffinately a chow thing.

Tippsy has staked her claim on my bedroom doorway, the doorways to all bathrooms, and the hall to the entry way.

She's always having to move when I'm walking through. But she's so good about it, I barely ever have to tell her to move.
Jasper has claimed the back doorway, the upstairs hallway, and right infront of the babygate that blocks the doorway from the kitchen to the dinning room. He barely ever gets told to move 'cause he's so clingy he just wants to be wherever I am, but if I tell him to, he gets out of the way.
Jess
R.I.P. Cinder~1992-1994, Tippsy~9/00-4/11, Jasper~10/08-10/14, Todd~2/11-7/15
Dixie: mix Rebel: mix
---
---
Return to "General Discussions"
Who is online
Users browsing this forum: No registered users and 1 guest