Moderator: chowadmin
My Loha has always had an unlimited, always available, food bowl. He has never, ever, abused that privilege, perhaps because he knows no different and, I'm sure, just assumes that is the way it is supposed to be. One way he likes to eat is to just lay down in front of his dish and leisurely munch away on his kibble. After having his fill, he slurps up his water and is on his way. That never applies to the morning when I put a couple of spoonfuls of canned chicken in his kibble. Then it is stand and gobble time. Any of you have lay down and eat hounds

Loha's Dad
---
Does it look like this?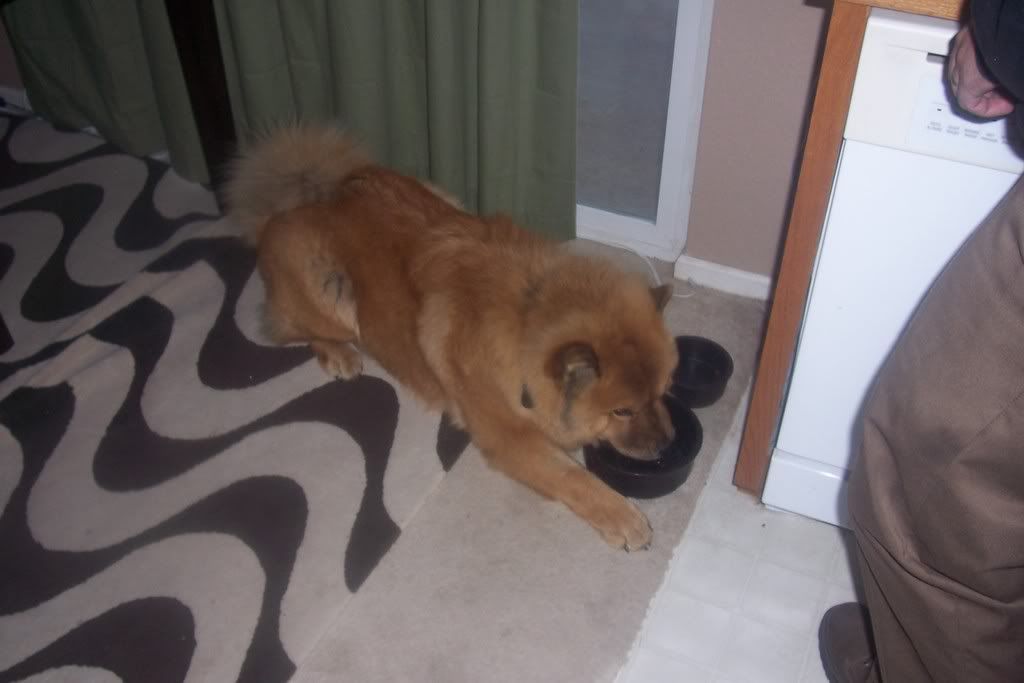 Thanks so much sweetpea!!!
---
Yeah, it looks more like that than like this (picture taken 5 minutes ago).

Loha's Dad
---
They are so hilarious...I thought Buddha was just such a lazy dog LOL He does that everytime we go on a nice long walk LOL

Thanks so much sweetpea!!!
---
Yep. Notice that he is sleeping with his eyes open and his head rammed against the wall. That way he can keep his eye on things and feel if the house shakes (which means someone is near on the outside). That's my boy!!!

Loha's Dad
---
Wait, he just switched to door duty. No one can come in nor (equally important) can I leave without rousing him.

Loha's Dad
Ah, the exhausting life of a spoiled chow chow
---
Sometimes it can look a bit like this!
---
Ah, yes. And today, just a couple of minutes ago, we have the , "Let me use the corner to bend my neck while I sleep" position. Can you imagine the crick in our neck any of us would wake up with if we attempted that!?!

Loha's Dad
---