Moderator: chowadmin
Rank 0

Posts: 50
Joined: Tue Aug 07, 2007 4:21 pm
Location: Pleasanton, California, USA
Contact:
When I get home from work, Shelly greets me at the door and as I sit down on the stairs to take off my shoes she will sit her butt on top of them, usually facing to the right or left. I think she does it because she wants me to stop taking off my shoes and pet her some more.

Silly doggie!
---
Rank 0

Posts: 56
Joined: Thu Sep 13, 2007 5:49 pm
Location: Fullerton, CA
This discussion has been great! Thank you all so much for sharing about your chows' behavior. I agree with Jeff about the guard dog stance...they need to watch us to make sure we're not getting into trouble (or leaving them). My chow (Chelsea) never sat on my feet but she was always right next to me or right in front of the door--making sure she knew exactly where I was and what I was doing even when she was sleeping. These are absolutely the best guardians we could ever have, aren't they?
---
Rank 0

Posts: 88
Joined: Fri Aug 04, 2006 3:48 pm
Location: Delaware
It's so cute how each of our Chow's do similar things in one way or another?.. Both mine will sit on my feet. My boy Nem will sit on my feet mainly, if V is sitting on my feet he'll pounce on her. My other chow's who've passed, always sat on my feet too.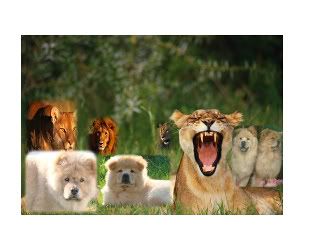 ---
Loha is a dedicated foot licker. The stinkier the better! Pays no particular attention to the stinky shoes they came out of. Even nibbles the toes ever so gently with his front teeth. He is a sick, sick boy!!!

Loha's Dad
---
Rank 1

Posts: 377
Joined: Sat Sep 15, 2007 3:26 pm
Location: Northern MI
Contact:
When I was researching stuff for the Chow info cards, I found this site. Go about half way down for the feet comment!
http://www.majestychows.com/chowfacts.htm
"Great foot warmer. Chows have a "thing" for feet. They will not only enjoy sitting on your feet, they will kiss your feet too."
Thanks SweetPea![b]
---
Molly loves feet ,too. Especially my husband's feet!
CoraP.
Remember this, and also be persuaded of its truth - the future is not in the hands of fate, but in ourselves.
Jules Jusserand
---
Tess sat on my feet when there were strangers around. Guarding me I guess.
---
Rank 1

Posts: 377
Joined: Sat Sep 15, 2007 3:26 pm
Location: Northern MI
Contact:
Carter will sit on my feet and look up at me. Sometimes he will lay on my feet too.
Thanks SweetPea![b]
---
---
Return to "General Discussions"
Who is online
Users browsing this forum: biancabg11 and 10 guests