Moderator: chowadmin
momtobear wrote:Why is it that you two can't get along?...and if you can't say anything nice don't say anything at all.
Usually, I hate it when people argue on this board, but when Jeff and Red Dragon start swapping insults, well, I make popcorn for that. Laura's right, it means nothing, and they enjoy it. I think.
Well I think you are both right. I also think that some of it is medical. If the dog has the dog version of old timers then the marking his territory...
I agree, if Wolfie's shown two strange behaviors (peeing and biting) in such a short amount of time, it might be a medical problem.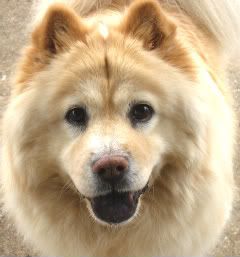 Sandy
Owned by Sophie
---
Rank 3

Posts: 3658
Joined: Thu Mar 03, 2005 7:03 am
Location: North Chesterfield, (Right outside Richmond) Virginia
I also agree that Wolfie needs to be taken to the vet asap; at 10.5 he could have any number of medical problems that are age related. We tend to think of 10.5 as fairly young because of the number of chows that are older than that on this board, but senior age for most canines is 6, with chows I think 10 is senior and they should be checked for things at that age, especially when their behavior changes drastically.

I'm think first that the bite was unintentional that he may not have known who you were at tha instant and started to bite, (and if you still have your thumb he only started to bite) then realized what he was doing and backed away. The cognitive dysfunction another member mentioned can also cause them to not recognize people very well, or forget who the person is; as well as not allowing them to calm down as fast as they should. In other words their brains aren't working right and like some older people the way they are handled and what goes on around them.
Victory, Darkwind, (our angel), Firesong, and Dreamdancer

Thank you SweetPea!
---
I'm on the side of medical/emotional issues, especially since he peed in the house as well. At least it's worth checking out with your vet. Gilbert is always a little off his rocker, but the only time we've had a dog pee in the house was when Sullivan was dying, and it was Gilbert. Sullivan was the only dog who ever threatened to bite us, but that was because we did let her be alpha over us. But I've said before, you haven't really lived until you've had a preschooler bite you on the stomach and draw blood through your clothes. I had a seven-year-old bite me on the arm just this week. Dogs -- not so scary, little kids, YIKES.
courtsey of Sweetpea
---