Moderator: chowadmin
Annie won't come inside. She keeps her back legs on the porch and streeeeeeetches to smell everything she can reach

SO, I tried tempting her w/ a treat and she grabbed it and ran outside


Thanks so much sweetpea!!!
---
Nope...never had that problem with any of mine. I tried to keep Tod out until I could get him vetted, but he had other plans. Thank goodness you live where it's not unbearable outside yet. She'd be a toasted Chow here in San Antonio. Maybe if you try a stinky treat like sardines and only hold it to where she can sniff it.
---
Rank 3

Posts: 2091
Joined: Sun Oct 28, 2007 2:36 pm
Bil Jac is a great stinky treat. It is Holden and Hannah's absolute favorite.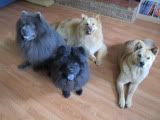 ---
She may have been an outside Chow, and her indoor experience was not positive. Even though your home is much different than a shelter, her memories are doing the driving in her reactions. Much as we say Chows should not be kept outside, the truth is, many prefer it, and in this case, a cold winter may be the only thing that will drive her into the house.
http://vimeo.com/12895512
---
Well, she like the treats, she just grabbed them and ran LOL Unfortunately all the winter seems to do (to Buddha at least), is make them want ot stay outside. Maybe she'll be different. Buddha is refusing to come inside as well. He can't stand to be separated from her.

Thanks so much sweetpea!!!
---
Onyx isn't to excited about coming in the house either but now she's coming in a little more each day. I can't expect to much out of her being as how she spent 3 days hiding in a crate and refused to come out. Except for coming in now she is a social butterfly she won't go in the crate at all.
---
Rank 3

Posts: 1962
Joined: Fri Mar 23, 2007 5:01 pm
Location: Nor Cal - LOL, or Wine Country as the natives call it.
Contact:
My first Chow was a rescue. Lucy was 2 years old when I got her. She had been with the same woman for the first 2 years of her life. The lady felt that she was not healthy enough to take care of her Chow so she gave her to a rescue. The first 3 or 4 days that Lucy was with me she hid under the house and would not come out. She wouldn't eat. I'm sure she drank water but I never saw her actually drink it. I left her alone and allowed her to stay under the house. I think it was the 4th day that Lucy finally came out from under the house. I coaxed her inside and she ate and drank. There she stayed and became both me and my daughters protector and friend.

---
Rank 3

Posts: 1580
Joined: Mon Sep 24, 2007 12:26 am
Location: Rockford, IL
Teddy doesn't always want to come inside either. And lately if I try to bring him in, he lies down and refuses to get up. Stubborn Chow, imagine that! So now, we are working very hard on this. I have a treat pouch that I hook on my pocket and go out into the yard. I call Teddy from anywhere in the yard and give him a treat when he comes to me. Then I walk closer to the door and call him again and give him another treat. Then I tell him we are going inside now and he follows me to the house. I still have to coax him into the house talking to him constantly and shaking the treats. I don't give him that treat until we are inside and the door is closed. He also gets a treat anytime he comes into the house on his own (the porch door swings in and the dogs can let themselves in). Eventually, when he follows me in without so much coaxing, I will start closer to the door and finally will call him from inside.

The reason for the first two treats in the yard is to not give him a chance to refuse to come in to the house. You know how smart chows are: offer him a treat to come in the house after he refuses just once or twice, then he will always refuse in order to be offered a treat.
Jerilyn

Banner courtesy of the amazing Sweetpea.
Until there are none, adopt one!
http://www.dogster.com/dogs/631376
http://www.dogster.com/dogs/650868
---
Rank 3

Posts: 1062
Joined: Sat Nov 12, 2005 5:46 pm
I have one that wants to be out most of the time too. Teddie sleeps outside and is out most of the day. Sometimes he will come in if Boogie and Fozzie are in and he feels left out but if they weren't here I don't think he would ever come in. He gets too antsy in the house and starts barking excessively. We did have him sleeping in the house for a few months but his barking got worse and worse. He is goofy too because he wants to be out but sometimes he gets scared and lonely and wants Boogie out there too but Boogie wants to be in. Boogie knows when he is going to get the boot to go and "babysit" Teddie so he throws himself on the ground and makes himself dead weight so we can't move him.
Boogie is the complete opposite of Teddie. If he could be in all day and all night in front of the TV he would be the happiest dog ever.

Poor Fozzie just wants to be left alone where ever he is. When given a choice, I think he prefers to be inside too although he doesn't watch TV. He just likes to sleep.
---
Sullivan likes being outside. In fact I just had to bribe her with a treat to come in. But mostly she's just playing us lately so she doesn't have to be around her brothers. She can refuse treats to let us know we can't bribe her. I've even tried that game of "bye, I'm going inside, see you later." And she sits and watches the door waiting for me to check on her. Why is my chow smarter than me?

Although our bigger problem is still getting Gilbert to go out. He is such a chicken. He's doing better going out during the day, but 4th of July is just around the corner. We'll be home, but if we just happen to be outside, any time of the day when a fire cracker goes off -- he's running for the door.

Debbie
courtsey of Sweetpea
---
Rank 2

Posts: 801
Joined: Fri Mar 30, 2007 3:26 pm
Location: Holland Michigan
Contact:
In the first 30 days we see a lot of unusual behavior. Just today one of the fur kids jumped up on the bed and was afraid to come down. Spent 20 minutes trying to get her down on her own. Some are afraid to go out most are afraid to come in. Sometime it is one week and for others it is 3 months to get used to being in our home. We have found the more in the pack the better they do.

Larry
---